Post Comment Love day and, here we are, the first Friday in September. The year seems to pick up pace at this time of the year now we are two thirds of the way through it!
Grace went back to school yesterday and I really enjoyed seeing photos of all the children on Facebook – I have some long-standing friends over there and it is lovely to see how much they are all growing up over the years.
This weekend is a 'down tools' kind of weekend for us. Ross is back from his business trip today and I am working all day Sunday as is the norm these days, so tomorrow is for us 🙂
This week I have I written a review of Brean Theme Park, and reviews of some new boots from Sole Trader and some Vintage Birdcage Table Lamps from ValueLights plus I have showcased some fab Star Wars clothing for kids from Melijoe. My link for PoCoLo is this week's poetry and photography prompt 'relaxation'.
This week's #SoFoLo is for your YouTube accounts. Simply pop over to the SoFoLo post to find out more. Also, don't forget our #SoFoLo communitynofollow on Google + and our #PoCoLo Facebook groupfollow where you can go and post your PoCoLo post for some more shares as well as any of your social media accounts of yours that need more followers.
If you are a regular here then it would be great if you spread the #PoCoLo word. However, if you are new here then welcome! Post Comment Love is all about sharing posts which you have written this week which just haven't got the attention they deserve and, with them all in one place, we can help each other share the comment love. This is one of the easiest links EVER. You don't have a 'special theme' to have to write about, the post can be personal, sponsored, a photo, a review, a competition, your own linky, something you've linked to a linky….WHATEVER you like – it's one you've already written this week! If you want some publicity and attention, then you are in the right place!
Please make sure you go across and comment on at least two other linkers posts. Linkys work if everyone supports each other, then, spread the #PoCoLo about this link up on Twitter. The post you link up has to have been written in the last week. The link will go up every Friday at 6.30am and close on Sunday evening at 8pm. I will make sure I retweet anyone and also try my best to tweet out the posts with the PoCoLo badge being displayed on either the post or the sidebar.
I have a list for the Newbie Showcase running into March 2016. If you would like to be featured then please email me at vickywelton@hotmail.com so I can put you on the rota. Remember, your blog needs to be under a year old to feature from the time of sending your email to me.If you have emailed me and not heard from me by then, please do send me another message or tweet me! Apologies to those who I owe an email to!
This week's newbie showcase was worried that she would no longer be considered a newbie. Meet Julia from Rainbeaubelle. I have to say that it is understandable that she might feel that way due to the fact that she has achieved a lot and been through so much. In her first year she has made the finals of the MAD Blog Awards in three categories – and she thoroughly deserves to be there. I wish her all the very best for the 18th September.
I started blogging while on maternity leave with my second child, Florence, who is now 2. My husband, Roger, had been seriously ill but was making a recovery and I wanted to start a project to focus on the nice things in our lives. Writing a blog seemed like a pretty good place to start!
However, earlier this year Roger became much more poorly and we found out he ha terminal bowel cancer. I started writing about our struggles with that as a family and the experiences we had, and I found writing about it all helped a great deal. I am really sad to say Roger passed away this summer, but I am carrying on with my blog as I know that's what he would have wanted, and he would have encouraged me every step of the way.
I am pretty overwhelmed to be up in three categories at this year's MAD Blog Awards, for Best Writer, Blog of the Year and – gulp – Outstanding Contribution. I am so honoured and excited and can't wait to go to what will actually be my first ever proper blogging event this month.
So please go and support Julia and all the lovely bloggers who have linked up below. Have a great weekend everyone xx
Go Over and share your YouTube account with #SoFoLo HERE.
Link Your PoCoLo Posts here: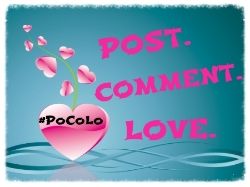 <div align="center"><a href="https://www.vevivos.com/post-comment-love" title="Post Comment Love"><img src=" http://i1322.photobucket.com/albums/u568/ToriWel/4e4a1bf6-07cb-494b-b06e-f959b1fe1311_zps654d027a.jpg" alt="Post Comment Love" style="border:none;" /></a></div>
Copyright protected by Digiprove © 2015 Victoria Welton