Welcome to this week's Prose for Thought. That's it. The summer holidays are over and done – how was it for you?
I can now start to get back to some sort of sense of normality (whatever that means!) and start to get into a new routine. I have to admit that Ross and I have done some rearranging over the holidays and I am looking forward to my new working schedule. It also means that I am going to be able to keep up with all the lovely people who link up – something I am pleased to say that I put into practice last week.
This week's prompt sees me catching up on the list with the word 'relaxation'. Still to come are 'personality' 'hide and seek' and now 'small' to catch up on. I certainly need to step up my poetry writing! Feel free – but not obliged – to join in.
So, if you have written a piece of original poetry, prose or fiction and would like to share it, then please link up below. I will try my utmost to read every single linker and share on Twitter, Google + or Facebook (please say in the comments if you have a preference). I would also love it if you share and use the #Prose4T hashtag. Please also use my badge below if you are linking up – it helps to publicise the linky to others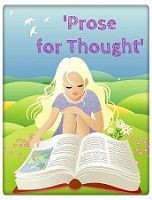 <div align="center"><a href="https://www.vevivos.com/prose-for-thought" title="Prose for Thought"><img src=" http://i1322.photobucket.com/albums/u568/ToriWel/Proseimagesmall_zps637beb08.jpg " alt="Prose for Thought" style="border:none;" /></a></div>
Copyright protected by Digiprove © 2015 Victoria Welton