Welcome back to Prose for Thought! It has been a week later than I anticipated so I am sorry to anyone who has been waiting around to link up.
As the summer holidays draw to a close, I have to say that I have really enjoyed spending time away from my computer and spending more time with Ross and Grace – and working as well! Although, I am looking forward to resuming some sort of normality and familiar routine as of next week.
This week I am back to my 52 week photography and poetry prompt. I am around 4 behind, so the first one on my backlog is the prompt 'home'. For those of you who want to join in there is also 'relaxation', 'personality' and 'hide and seek' to catch up on – I hope to do mine over the course of the next week now that I have re-charged my writing battery.
So, if you have written a piece of original poetry, prose or fiction and would like to share it, then please link up below. I will try my utmost to read every single linker and share on Twitter, Google + or Facebook (please say in the comments if you have a preference). I would also love it if you share and use the #Prose4T hashtag. Please also use my badge below if you are linking up – it helps to publicise the linky to others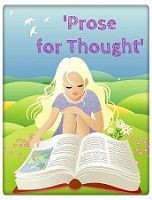 <div align="center"><a href="https://www.vevivos.com/prose-for-thought" title="Prose for Thought"><img src=" http://i1322.photobucket.com/albums/u568/ToriWel/Proseimagesmall_zps637beb08.jpg " alt="Prose for Thought" style="border:none;" /></a></div>
Copyright protected by Digiprove © 2015 Victoria Welton