Hi everyone and welcome to this week's Prose for Thought.
I have a confession to make. I am very behind on my commenting but it is for a very good reason. I have just started a new job! It fits in nicely with what I do already but, as with any new job, it is a case of getting used to the schedule and new systems – which obviously takes a bit of time! Of course, in amongst all of that, we had the busy times that come with the end of the school year and starting a new timetable to allow for the summer holidays.
With this in mind, I will ensure that I put some time aside today to visit everyone who linked up last week and the week before. I promise!
This week's photography and poetry prompt is 'Calm' – obviously something I need after everything that I have explained above!
Just a note to say PLEASE don't feel obliged to use the prompt for your work – it is only there if and when you want to join in and does not make any difference to you linking up with Prose for Thought.
If you would like to join in, next week's prompt is 'Sunset'. I am really looking forward to that one.
So, if you have written a piece of original poetry, prose or fiction and would like to share it, then please link up below. I will try my utmost to read every single linker and share on Twitter, Google + or Facebook (please say in the comments if you have a preference). I would also love it if you share and use the #Prose4T hashtag. Please also use my badge below if you are linking up – it helps to publicise the linky to others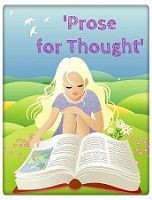 <div align="center"><a href="https://www.vevivos.com/prose-for-thought" title="Prose for Thought"><img src=" http://i1322.photobucket.com/albums/u568/ToriWel/Proseimagesmall_zps637beb08.jpg " alt="Prose for Thought" style="border:none;" /></a></div>
Copyright protected by Digiprove © 2015 Victoria Welton