Welcome to this weeks Post Comment Love everyone! Firstly I must say a big thanks to the wonderful Ali at Mum In a Nutshell for looking after PoCoLo last week.
I don't know about you but the summer holidays can't come soon enough in my book. Grace is off for a pizza picnic in the park with her class today and I am SO envious! (probably less so if it rains though!). She is back at school on Monday for the day and then that is her lot, until September.
I think this weekend is going to be a calmer one for us and I need to put some time aside for a ruddy good clean! Our poor home hasn't had enough attention lately!
This week my posts have included details of a new app, a review of the steam shot from Bissell, my latest photography and poetry prompt – haven, and a review of Soar Mill Cove (which is linked below).
This week's #SoFoLo is for likes and shares. Simply pop over to the SoFoLo post to find out more. Also, don't forget our #SoFoLo community on Google + and our #PoCoLo Facebook group where you can go and post your PoCoLo post for some more shares as well as any of your social media accounts of yours that need more followers.
If you are a regular here then it would be great if you spread the #PoCoLo word. However, if you are new here then welcome! Post Comment Love is all about sharing posts which you have written this week which just haven't got the attention they deserve and, with them all in one place, we can help each other share the comment love. This is one of the easiest links EVER. You don't have a 'special theme' to have to write about, the post can be personal, sponsored, a photo, a review, a competition, your own linky, something you've linked to a linky….WHATEVER you like – it's one you've already written this week! If you want some publicity and attention, then you are in the right place!
Please make sure you go across and comment on at least two other linkers posts. Linkys work if everyone supports each other
then spread the #PoCoLo about this link up on Twitter. The post you link up has to have been written in the last week. The link will go up every Friday at 6.30am and close on Sunday evening at 8pm. I will make sure I retweet anyone and also try my best to tweet out the posts with the PoCoLo badge being displayed on either the post or the sidebar.
I have a list for the Newbie Showcase running into February 2016. If you would like to be featured then please email me at vickywelton@hotmail.com so I can put you on the rota. Remember, your blog needs to be under a year old to feature from the time of sending your email to me.If you have emailed me and not heard from me by then, please do send me another message or tweet me!
This week's newbie showcase is slightly different from the norm. Hannah originally applied for newbie showcase with her blog, however, she has put this on hold in order to start her new business. In view of this, she is showcasing that below instead. Please welcome her.
Hello, I am Spidermummy – aka Hannah!! I have been blogging at 'The Mis-Adventures of Spidermummy'​ since October last year, and had a total blast doing it & loved becoming part of the blogging community. However I have sadly just this month put Spidermummy to bed for a bit, whilst I focus my attention on my new venture which is Calm Births. I have re-trained as a HypnoBirthing Practitioner, and am now offering classes locally to me in Berkshire & Hampshire. Please see my post here to explain what on earth HypnoBirthing is! And this one, about dispelling the common myths around it.
I am hoping that people might come and find me on Twitter here, and on Facebook here.
I would love anyone wanting to know more about HypnoBirthing and what I'm up to, to pop over and say hi!
Thanks so much to Victoria for having me over & I hope to see you all soon! (oh, and p.s watch out as Spidermummy will be back one day!!) xx
So please go and support Hannah and all the lovely bloggers who have linked up below. Have a great weekend everyone xx
Go Over and share your posts for likes and shares with #SoFoLo HERE.
Link Your PoCoLo Posts here: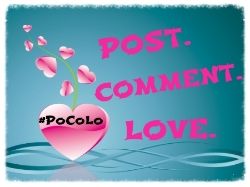 <div align="center"><a href="https://www.vevivos.com/post-comment-love" title="Post Comment Love"><img src=" http://i1322.photobucket.com/albums/u568/ToriWel/4e4a1bf6-07cb-494b-b06e-f959b1fe1311_zps654d027a.jpg" alt="Post Comment Love" style="border:none;" /></a></div>
Copyright protected by Digiprove © 2015-2016 Victoria Welton