Welcome to this week's Prose for Thought. Thank you so much to everyone who continues to join up and support this linky.
I am catching up on my commenting – this morning is Grace's sports day so, if I haven't gotten round to you already, then I will be there later.
This week's photography and poetry prompt is 'Haven'. After having spent last week down in Devon in a secluded hotel this was the perfect subject for me this week.
Just a note to say PLEASE don't feel obliged to use the prompt for your work – it is only there if and when you want to join in and does not make any difference to you linking up with Prose for Thought.
If you would like to join in, next week's prompt is 'Calm'. The perfect accompaniment to Haven – although I am not sure how calm it will be given that Grace is breaking up from school on Monday!
So, if you have written a piece of original poetry, prose or fiction and would like to share it, then please link up below. I will try my utmost to read every single linker and share on Twitter, Google + or Facebook (please say in the comments if you have a preference). I would also love it if you share and use the #Prose4T hashtag. Please also use my badge below if you are linking up – it helps to publicise the linky to others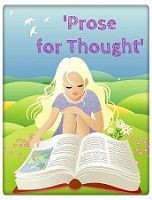 <div align="center"><a href="https://www.vevivos.com/prose-for-thought" title="Prose for Thought"><img src=" http://i1322.photobucket.com/albums/u568/ToriWel/Proseimagesmall_zps637beb08.jpg " alt="Prose for Thought" style="border:none;" /></a></div>
Copyright protected by Digiprove © 2015 Victoria Welton