Welcome to this week's Post Comment Love. How has your week been? Mine has been one of those testing ones…you know…the kind that seem to completely rock the foundations of your world, shake you around a bit and then leave you wondering what the heck happened to you in your life! I have to say that I am a firm believer of the truth will out. I have remained true to what I believe and, if I am wrong in any way, then I hope that I can learn from it. I know that all sounds a bit cryptic – and I am sorry for that – but I believe that I am not allowed to discuss legal matters on my blog! These are all stories for one day in the distant future.
For this very reason I have felt a bit out of sorts with my blog and the people that I interact with. My family will always come first and I know that this space, this area of the internet, is mine and I will be back and forth whenever I can.
This week I have managed to write some posts though – including the challenge of furnishing a spare room, 5 things to consider when choosing a conservatory, some special occasion fashion for kids and my weekly photography and poetry prompt, 'Life'. In the link below I share with you some sun care tips from Boots – who were my sponsors at BritMums Live this year.
This week's #SoFoLo is for Google +. Simply pop over to the SoFoLo post to find out more. Also, don't forget our #SoFoLo community on Google + and our #PoCoLo Facebook group where you can go and post your PoCoLo post for some more shares as well as any of your social media accounts of yours that need more followers.
If you are a regular here then it would be great if you spread the #PoCoLo word. However, if you are new here then welcome! Post Comment Love is all about sharing posts which you have written this week which just haven't got the attention they deserve and, with them all in one place, we can help each other share the comment love. This is one of the easiest links EVER. You don't have a 'special theme' to have to write about, the post can be personal, sponsored, a photo, a review, a competition, your own linky, something you've linked to a linky….WHATEVER you like – it's one you've already written this week! If you want some publicity and attention, then you are in the right place!
Please make sure you go across and comment on at least two other linkers posts. Linkys work if everyone supports each other
then spread the #PoCoLo about this link up on Twitter. The post you link up has to have been written in the last week. The link will go up every Friday at 6.30am and close on Sunday evening at 8pm. I will make sure I retweet anyone and also try my best to tweet out the posts with the PoCoLo badge being displayed on either the post or the sidebar.
I have a list for the Newbie Showcase running into February 2016. If you would like to be featured then please email me at vickywelton@hotmail.com so I can put you on the rota. Remember, your blog needs to be under a year old to feature from the time of sending your email to me.If you have emailed me and not heard from me by then, please do send me another message or tweet me!
This week, please welcome the wonderful Becky from 3 Princesses and 1 Dude – I love how she started her blog!
Hi Guys!! I'm Becky, I blog over at 3 Princesses and 1 Dude! I started blogging after a bit of (apparently super simple) homemade playdough making ended disastrously! (you can read about it in my Welcome post)
I am Mummy to 4, 3 girls and 1 boy…did you guess?!?! I call them my monsters and they are Ellie, 10, Jenson, 4, Evie, 3, and Elsie 18 months, and I blog about well anything and everything! We have shared activities, recipes, rants, memories and we also dabble with a bit of You Tube (although I am rubbish at uploading regularly!!) I also host the #ToddlerApprovedTuesday linky with fellow blogger Leandra every Tuesday-Thursday.
Some of our most popular posts have been my Cheats Pom Pom Tutu Tutorial, our Homemade PopTarts Recipe, my list of 15 Things To Do When Your An Exhausted Not New Mum, and also my post about my reasons for quitting diets and Saying Bye Bye To Slimming World. Oh and one of my fave You Tube videos is this Interview With the monsters!
Instagram http://instagram.com/3princesses1dude
Pinterest http://www.pinterest.com/beckyw1983/
Twitter https://twitter.com/3princess_1dude.
Facebook page https://www.facebook.com/3princessesand1dude
YouTube: https://www.youtube.com/channel/UCiFBUOMStuJ-snXhuH3R-7A
So please go and say hi to Becky and all the other lovely bloggers who have linked up below. Have a great weekend everyone xx
Go Over and share your Google+ profile with #SoFoLo HERE.
Link Your PoCoLo Posts here: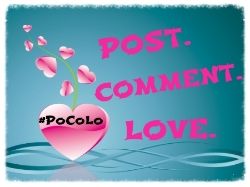 <div align="center"><a href="https://www.vevivos.com/post-comment-love" title="Post Comment Love"><img src=" http://i1322.photobucket.com/albums/u568/ToriWel/4e4a1bf6-07cb-494b-b06e-f959b1fe1311_zps654d027a.jpg" alt="Post Comment Love" style="border:none;" /></a></div>
Copyright protected by Digiprove © 2015 Victoria Welton