Welcome everyone to this week's Post Comment Love. If you are a regular blogger then you won't have failed to have noticed that next week is BritMums Live! And yes, along with many others, I am off to the event thanks to my wonderful sponsors, Boots. Therefore, we are all having a well-earned break from PoCoLoing next week and it will return on Friday 26th June.
So, how has your week been? Mine has been a bit hectic for lots of different reasons but I have had a pretty good one. I have shared a few more posts this week including my usual photography and poetry prompt which this week is all 'smiles', some fab Fathers Day gifts from Truprint and a beautiful new range from Hammonds fitted furniture. On top of all that, it is Rare Chromosome Disorder Awareness week and I wrote a post about my wonderful nephew, Elliott and how it affects our family. This is linked up below but if you are interested in donating then here is the link to my sister's JustGiving page – . I am wearing yellow and blue today in support.
This week's #SoFoLo is for Twitter. Simply pop over to the SoFoLo post to find out more. Also, don't forget our #SoFoLo community on Google + and our #PoCoLo Facebook group where you can go and post your PoCoLo post for some more shares as well as any of your social media accounts of yours that need more followers.
If you are a regular here then it would be great if you spread the #PoCoLo word. However, if you are new here then welcome! Post Comment Love is all about sharing posts which you have written this week which just haven't got the attention they deserve and, with them all in one place, we can help each other share the comment love. This is one of the easiest links EVER. You don't have a 'special theme' to have to write about, the post can be personal, sponsored, a photo, a review, a competition, your own linky, something you've linked to a linky….WHATEVER you like – it's one you've already written this week! If you want some publicity and attention, then you are in the right place!
Please make sure you go across and comment on at least two other linkers posts. Linkys work if everyone supports each other
then spread the #PoCoLo about this link up on Twitter. The post you link up has to have been written in the last week. The link will go up every Friday at 6.30am and close on Sunday evening at 8pm. I will make sure I retweet anyone and also try my best to tweet out the posts with the PoCoLo badge being displayed on either the post or the sidebar.
I have a list for the Newbie Showcase running into February 2016. If you would like to be featured then please email me at vickywelton@hotmail.com so I can put you on the rota. Remember, your blog needs to be under a year old to feature from the time of sending your email to me. I promise that if you are waiting to hear from me then I will get back to you by Monday. If you have emailed me and not heard from me by then, please do send me another message or tweet me!
This week, please welcome one of my favourite travel bloggers, Ting from My Travel Monkey. She has done so well in her first year and she really does write a great blog.
Hi my name is Ting, and I blog over at My Travel Monkey. I live just outside of London with my husband and a very cheeky three and half-year old son, Monkey. I love a good laugh, with wine and gin – preferably all together in one sitting…
You can sometimes find me rushing about SE1, where I have to attend my day job as a Chief Sub Editor on What's On TV and Soaplife magazines. It's a job that keeps me very busy, but luckily my amazing other half picks up most of the slack when it comes to nursery pick ups and drop offs.
I started My Travel Monkey initially to document all the adventures that I go on with Monkey – it was just a few posts about our outings to the park and woods, but it's really grown from there. I am surprised how blogging has taken over my life.
I've always had a passion for travelling. I was bitten by the travel bug when I was a child due to my parents, who have given me the opportunity to experience once-in-a-lifetime events like climbing inside the Great Pyramid of Giza and walking along The Great Wall of China. And, in my early twenties after lots of Saturday/holiday jobs, I was lucky enough to go on an around-the-world trip in my early twenties for nearly 18 months, which cemented this inherent need of mine to explore.
So what's the ethos behind My Travel Monkey? It's all about sharing our marvellous adventures – both at home and abroad. It's also about inspiring people to get out and enjoy the outdoors; to pack a suitcase and to go off and explore the big wide world; and sharing the tips I've learnt along the way.
Meanwhile, my Holiday Snapshots series which showcases different bloggers' fantastic trips and my new Monday Escapes linky inspires me on a weekly basis and it's been fantastic reading about other people's travel stories – we're all a well-travelled bunch! So I hope any of you lovely people reading today will get in touch if you want t share some of your adventures, too.
Here are some of my favourite posts:
http://www.my-travelmonkey.com/why-travelling-is-great-for-you-and-the-kids/
http://www.my-travelmonkey.com/48-hours-in-bucharest-an-overview/
http://www.my-travelmonkey.com/the-camel-trail/
I truly believe that having my son hasn't stopped me from having serious wanderlust. In fact, I now want to open his eyes to new experiences, which in itself is a huge life lesson – one that cannot be taught in the classroom. So, hopefully, one day, he will share the same passion and go off on his own journey.
Happy travels all!
https://twitter.com/my_travelmonkey
https://www.facebook.com/mytravelmonkey?ref=hl
https://plus.google.com/u/0/+TingDalton/posts
https://instagram.com/mytravelmonkey/
https://www.pinterest.com/mytravelmonkey/
So please go and say hi to Ting and all the other lovely bloggers who have linked up below. Have a great weekend everyone xx
Go Over and share your Twitter profile with #SoFoLo HERE.
Link Your PoCoLo Posts here: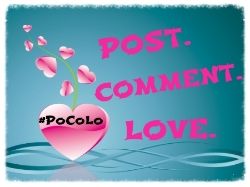 <div align="center"><a href="https://www.vevivos.com/post-comment-love" title="Post Comment Love"><img src=" http://i1322.photobucket.com/albums/u568/ToriWel/4e4a1bf6-07cb-494b-b06e-f959b1fe1311_zps654d027a.jpg" alt="Post Comment Love" style="border:none;" /></a></div>
Copyright protected by Digiprove © 2015 Victoria Welton