Hello Post Comment Love linkers! How the devil are you? If you are reading this post on Friday then I will be travelling to BlogCamp Bristol ready for a day of blogger-related fun. If you are going then I hope to see you there and say hi.
I have to apologise. Due to personal circumstances (which I am not allowed to speak about on here!) I have been rather distracted on the blogging front as there is a large amount of paperwork involved in what I am having to deal with. It is far more important to me than anything else in the world so that will always come first. At least I know that the blogging will still be there once this is all sorted. What I can say is that I will always guide and support Grace and listen to her feelings. I just wish other people would.
So, tell me some good news! Aside from BlogCamp today, BritMums Live is also on the horizon and I am very pleased to say that I have been approached by, and secured, a sponsor – a really good one too! Watch this space and I am sure that I will be able to share more over the next week or so.
This week, as I have said, my blogging has been a bit slack but you are welcome to take a look at my poem on the subject of 'bold' or there is a post about psychology in the home. I haven't even completed my Project 365 this last week!
This week's #SoFoLo is for YouTube. Simply pop over to the SoFoLo post to find out more. Also, don't forget our #SoFoLo community on Google + and our #PoCoLo Facebook group where you can go and post your PoCoLo post for some more shares as well as any of your social media accounts of yours that need more followers.
If you are a regular here then it would be great if you spread the #PoCoLo word. However, if you are new here then welcome! Post Comment Love is all about sharing posts which you have written this week which just haven't got the attention they deserve and, with them all in one place, we can help each other share the comment love. This is one of the easiest links EVER. You don't have a 'special theme' to have to write about, the post can be personal, sponsored, a photo, a review, a competition, your own linky, something you've linked to a linky….WHATEVER you like – it's one you've already written this week! If you want some publicity and attention, then you are in the right place!
Please make sure you go across and comment on at least two other linkers posts. Linkys work if everyone supports each other
then spread the #PoCoLo about this link up on Twitter. The post you link up has to have been written in the last week. The link will go up every Friday at 6.30am and close on Sunday evening at 8pm. I will make sure I retweet anyone and also try my best to tweet out the posts with the PoCoLo badge being displayed on either the post or the sidebar.
I have a list for the Newbie Showcase running into February 2016. If you would like to be featured then please email me at vickywelton@hotmail.com so I can put you on the rota. Remember, your blog needs to be under a year old to feature from the time of sending your email to me. I know that there a couple of people waiting to hear from me and I will get back to you as soon as I can.
This week's newbie showcase is from someone who writes a great blog and has linked up to PoCoLo on a regular basis. Please welcome Steph from Misplaced Brit.
Hi I'm Steph, Misplaced Brit Mama in Sweden.
One of the MOST embarrassing things that ever happened to me, happened in a swimming pool.The adventure pool moment when you realize that that thing floating around in front of you is your bikini!(top). Which is suddenly very hard to grab a hold of. Because once you KNOW you're breasts are dangling in a public place.The automatic reaction isn't to start doing front crawl to reach something, whatever it is.Actually it's hard to swim at all when you've got one arm over your boobs.
WHAT would I have done if they'd been bigger?!…
Want to know the rest? You'll have to pop over to my blog 😉
Why do I blog? Well for starters, how on earth could I share such vital life experience with the world if I wasn't publishing it myself?
I'm an expat in Sweden; and if there's one thing I've learnt as an expat, it's how to laugh at myself.
We really don't have to take ourselves; our mistakes or our embarrassments so seriously.
If we did; I'd have had to hide away for at least the first two years in Sweden.There's no end to the 'little' language mistakes you can make… And why do they all end up being so rude? I guess I want my blog to 'say' that: Embarrassing; 'taboo'; 'imperfect' things happen to all of us. There are moments when life looks, seems, feels fantastic… But real life has other bits too. Especially with young children! – Mine are 2, 4 and 7.I've shared about recovery from PND and depression: http://misplacedbrit.com/depression/recovering-from-burnout-or-depression-an-a-z/
I live on coffee and dark chocolate, and far to little sleep. You're more likely to find me wishfully gazing at craft supplies than clothes. And we don't have a TV, but I don't think there's a Netflix series we haven't watched!
Thanks Victoria for having me over to introduce myself.
Anyone fancy a chat? You can find me all over the place!
Steph x
Please go over and say hi to Steph and please don't forget the rest of the lovely linkers below. Have a great weekend everyone xx
Go Over and share your YouTube profile with #SoFoLo HERE.
Link Your PoCoLo Posts here: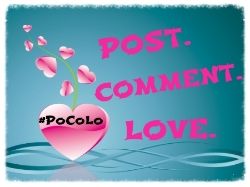 <div align="center"><a href="https://www.vevivos.com/post-comment-love" title="Post Comment Love"><img src=" http://i1322.photobucket.com/albums/u568/ToriWel/4e4a1bf6-07cb-494b-b06e-f959b1fe1311_zps654d027a.jpg" alt="Post Comment Love" style="border:none;" /></a></div>
Copyright protected by Digiprove © 2015 Victoria Welton