For a number of reasons I find that this week's prompt word 'bold' extremely appropriate.
Bold has two meanings –
(of a person, action, or idea) showing a willingness to take risks; confident and courageous.

"a bold attempt to solve the crisis"

(of a colour, design, or shape) having a strong, vivid, or clear appearance.

"a coat with bold polka dots"
Due to personal reasons I have found myself having to be the former in dealing with various issues that have arisen this week. This has caused me to be a bit quieter on the blogging front than I normally am. I have to say that I find it really strange when people from my past – who don't actually know me anymore – assume that I am acting in a certain way and letting them wind me up or upset me when I have (believe it or not!) moved on and got a life. Although, they don't appear to have done!
My photo this week looks at the second meaning. Last week, my mum and I visited a lovely restaurant and tea shop in Woking called 'Bills'. We sat at a table in the window and I turned around and saw this. I absolutely love the big bold colours and beautiful chairs. The purple and red look great together.
Bold
Confident courageous and valiant as can be
You can try your best to break me but I won't let it be
I'm stronger now than ever, you have no idea
You can try to intimidate me but I don't feel that fear
I now have my own life, I've moved up and I've moved on
You think I care what you think – that feeling has long gone
Why can't you leave it in the past, this has grown so old
But I will remain undaunted, stand up and be bold
Victoria Welton 3rd June 2015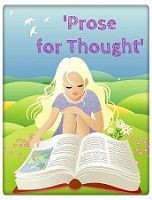 Copyright protected by Digiprove © 2015 Victoria Welton