Welcome to the last Post Comment Love for May. So, where on earth did that one go then, huh?! I hope you have had as good a half term as we have. Ours has been spent in a whirlwind of Eurovision, Monkey World, visits to my Mum and Surrey and a wedding reception this weekend. How was yours?
I have to say that I have spent a lot of time away from social media and blogging in general this week and turned my attention to Grace and my family and I have really enjoyed it. It is likely to start becoming a very good habit – one that I have been missing out on rather a bit too much! Next week means back to the grindstone plus I am helping out at BlogCamp Bristol next Friday so see you there if you are going!
This week, Grace has been given the task of learning a poem ready to perform at school next week. I was rather pleased that she has chosen to read one of my poems, namely the first and last verse of the poem 'Blue'. If she does well then she will be asked to take part in a poetry slam in June. This is not the only way she has been starting to take after her mum this week. She has also started to use her camera regularly and do much more photography. I am rather chuffed with her.
My posts this week have included an interview with the very talented Nik Kershaw, the #AchieveLazy campaign with British Pork and my poem 'Above' for this week's Prose for Thought – if you have issues with people who think that they are better than you, then you need this poem!
This week's #SoFoLo is for Facebook. Simply pop over to the SoFoLo post to find out more. Also, don't forget our #SoFoLo community on Google + and our #PoCoLo Facebook group where you can go and post your PoCoLo post for some more shares as well as any of your social media accounts of yours that need more followers.
If you are a regular here then it would be great if you spread the #PoCoLo word. However, if you are new here then welcome! Post Comment Love is all about sharing posts which you have written this week which just haven't got the attention they deserve and, with them all in one place, we can help each other share the comment love. This is one of the easiest links EVER. You don't have a 'special theme' to have to write about, the post can be personal, sponsored, a photo, a review, a competition, your own linky, something you've linked to a linky….WHATEVER you like – it's one you've already written this week! If you want some publicity and attention, then you are in the right place!
Please make sure you go across and comment on at least two other linkers posts. Linkys work if everyone supports each other
then spread the #PoCoLo about this link up on Twitter. The post you link up has to have been written in the last week. The link will go up every Friday at 6.30am and close on Sunday evening at 8pm. I will make sure I retweet anyone and also try my best to tweet out the posts with the PoCoLo badge being displayed on either the post or the sidebar.
I have a list for the Newbie Showcase running into February 2016. If you would like to be featured then please email me at vickywelton@hotmail.com so I can put you on the rota. Remember, your blog needs to be under a year old to feature from the time of sending your email to me. I know that there a couple of people waiting to hear from me and I will get back to you as soon as I can.
This week, please welcome newbie showcase Steph from Diary of a Midlife Mummy. I am really pleased that I should actually get to meet her in person very soon as she will also be at BlogCamp next Friday.
Hi, my name is Steph and I blog over at Diary of a Midlife Mummy. Thank you so much to the wonderful Vic for hosting this fabulous linky and for allowing me to be a part of it for this weeks #NewbieShowcase.
So, where do I start?
I live in Berkshire with my husband, Mikey who I met in Kefalonia back in 2002, whilst working for a sailing and Watersports company. We've been married now for 6 years and have become lucky enough to share our home with our two beautiful daughters, Holly Ava, aged 4, and Ella Rose, aged 2.
I was always curious about this thing called blogging, and in the end I plucked up the courage to put 'fingers to keyboard so to speak, as I really wanted to have a diary of my life with my family. Here it has progressed from family adventures, ups, downs and mayhem to all sorts of things I love and get up to. I don't tend to stick to one subject I'm afraid, but I think, rightly or wrongly, that it spices things up a little! I love so many things, from interiors and fashion, to travels and pretty things, so this is my space to be who I'm not in the working world, but who I'd love to be. And, as I hit the big 4-0 next year *gulp*, it will most likely morph further again into something else!
I have always looked at other blogs with envy that I didn't start this journey sooner, charting my pregnancy and the trials of looking after newborns of with newborns, but I'm still loving what I'm doing and am excited to watch my blog grow as my children grow.
My blog has been pootling along now for just over a year, although I never really started to know exactly what to do with it until well into six months!! And even now, I'm a complete technophobe and have A LOT to learn. I'm not the best at shouting out and publicising myself but this is something I'm working on!
And, athough I've made some amazing life-long friends through this little page of mine, it's not been until recently where the true wonder of the blogging world has amazed me. My little family have had a tough few months, where much of it has been a bit of a blur, but the kindness and generosity of other bloggers has astounded me. It really is a fabulous thing to be a part of.
I would love one day for this to be my life and am excited at where this blogging journey may take me, but for now I'm happy to have it at all and to have been fortunate to have made so many fun and fabulous friends along the way.
I'm off to Blogcamp, Bristol next week and I'm also attending Britmums at the end of July. I would love to meet and chat to as many of you as I can, though I'm a little shy, but once you get me talking I probably won't stop!! Come find me – I'm the short one!!
Blog: Steph – Diary of a Midlife Mummy
Email: midlifemummydiary@gmail.com
Twitter: https://twitter.com/midlife_mummy
Facebook: https://www.facebook.com/midlifemummy
Pinterest: http://www.pinterest.com/midlifemummy/
GooglePlus: https://plus.google.com/+midlifemummyDiary/posts
Instagram: http://instagram.com/midlifemummydiary/
Please go over and say hi to Steph and please don't forget the rest of the lovely linkers below. Have a great weekend everyone xx
Go Over and share your Facebook profile with #SoFoLo HERE.
Link Your PoCoLo Posts here: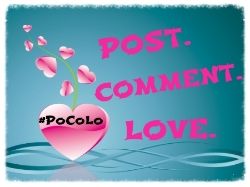 <div align="center"><a href="https://www.vevivos.com/post-comment-love" title="Post Comment Love"><img src=" http://i1322.photobucket.com/albums/u568/ToriWel/4e4a1bf6-07cb-494b-b06e-f959b1fe1311_zps654d027a.jpg" alt="Post Comment Love" style="border:none;" /></a></div>
Copyright protected by Digiprove © 2015 Victoria Welton