Welcome to the Bank Holiday weekend, half term and Post Comment Love! Lots of great things all listed together 🙂 Firstly, I know I have been slacking on the commenting front and, for that, I sincerely apologise. Ross is out gigging tonight so, without any distractions, I am going to make a concerted effort to get round to you all (and this isn't the only linky I am behind on commenting with!).
I had a fabulous weekend last week, thank you so much for all my birthday wishes. I had a day off from pretty much everything on Monday and have found it quite hard to get back on the working mill! Today Grace has an inset day so I will be juggling her and work.
This week I have written all about the school readiness campaign with Reading Eggs (for whom I am now an ambassador), a poem entitled 'Colour', a review of some gluten-free cornflakes and there is a great competition to win £50 with Ecooutfitters (link on PoCoLo this week). Ahh, the diverse life of a blogger, eh?!
As we have not had it for a while, this week's #SoFoLo is for Pinterest. Simply pop over to the SoFoLo post to find out more. Also, don't forget our #SoFoLo community on Google + and our #PoCoLo Facebook group where you can go and post your PoCoLo post for some more shares as well as any of your social media accounts of yours that need more followers.
If you are a regular here then it would be great if you spread the #PoCoLo word. However, if you are new here then welcome! Post Comment Love is all about sharing posts which you have written this week which just haven't got the attention they deserve and, with them all in one place, we can help each other share the comment love. This is one of the easiest links EVER. You don't have a 'special theme' to have to write about, the post can be personal, sponsored, a photo, a review, a competition, your own linky, something you've linked to a linky….WHATEVER you like – it's one you've already written this week! If you want some publicity and attention, then you are in the right place!
Please make sure you go across and comment on at least two other linkers posts. Linkys work if everyone supports each other
then spread the #PoCoLo about this link up on Twitter. The post you link up has to have been written in the last week. The link will go up every Friday at 6.30am and close on Sunday evening at 8pm. I will make sure I retweet anyone and also try my best to tweet out the posts with the PoCoLo badge being displayed on either the post or the sidebar.
I have a list for the Newbie Showcase running into February 2016. If you would like to be featured then please email me at vickywelton@hotmail.com so I can put you on the rota. Remember, your blog needs to be under a year old to feature from the time of sending your email to me. I know that there a couple of people waiting to hear from me and I will get back to you as soon as I can.
This week, please welcome a blogger who is from my neck of the woods location-wise – in fact she is only 20 minutes up the road from me! Say hi to Lizzie, a blogger who I certainly need to know more about.

I'm Lizzie & I live in Somerset with my husband Jon & our two children Harry & Katie (known on the blog as Sweet Harry (SH) & Sweet Bea (SB)), we also have a mad but very loved cat called Copper. We run a garage in Yeovil doing MOT's, Servicing & Second Hand Car Sales (http://www.jhnormanandsons.co.uk).
I gave up my job at AgustaWestland when I had SH & immediately seemed to lose my identity. I guess it's something a lot of Mum's who decide to stay home have to grapple with at some point. I started the blog in 2013 after I'd had my second child. I'd already had a stern word with myself about how things would change after having Katie. Things just needed to change if I was to continue staying home with the kids. I joined the gym, lost 2 st started taking care of myself a bit more (facials, haircuts, time out with friends).
I remember reading an American blog called Hello! Happiness (http://www.hellohappinessblog.com) & thinking this girl just looked so happy! It made me want to start a blog too! So that's what I did & it really helped me to focus on all the good in my life.
Of course, I've since learnt that a lot of blogs only show the show reel instead of real life, but I hope my blog is a balance of both realness & focussing on the positive. I like to count my blessings & I love sharing the things that I love with other people. Celebrating the little things."
The two links I thought would be good is the first two blog post in my new series called Feast & Ferret which runs every Friday http://www.lizziesomerset.com/feast-ferret/ and http://www.lizziesomerset.com/feast-ferret-2/
I write up a post once a month called Five on Friday & still link up to that Hello! Happiness blog even now, it's my starting place.
INSTAGRAM: @lizzie_somerset
TWITTER: @lizzie_roles
PINTEREST: Lizzie Roles
Please go over and say hi to Lizzie and please don't forget the rest of the lovely linkers below. Have a great weekend everyone xx
Go Over and share your Pinterest profile with #SoFoLo HERE.
Link Your PoCoLo Posts here: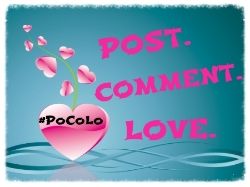 <div align="center"><a href="https://www.vevivos.com/post-comment-love" title="Post Comment Love"><img src=" http://i1322.photobucket.com/albums/u568/ToriWel/4e4a1bf6-07cb-494b-b06e-f959b1fe1311_zps654d027a.jpg" alt="Post Comment Love" style="border:none;" /></a></div>
Copyright protected by Digiprove © 2015 Victoria Welton