Welcome to this week's Prose for Thought. Thank you to everyone who linked up last week. I am pleased to say that I have now caught up with commenting for the last couple of weeks.
This month is my turn for the poetry and prose round-up over on BritMums. Why not have a read and see if you can spot your name in amongst them? Maddy from Writing Bubble is back next month with her choices.
This week's poetry and photography prompt was 'Space'. I decided on the moon and stars version of this word and came up with a poem with a host of Sci-Fi programmes which will be familiar to those who grew up in the '70s and early '80s. These shows certainly had a big influence on me! My poem is linked up below.
If you would like to join in, next week's prompt is 'Colour'
So, if you have written a piece of original poetry, prose or fiction and would like to share it, then please link up below. I will try my utmost to read every single linker and share on Twitter, Google + or Facebook (please say in the comments if you have a preference). I would also love it if you share and use the #Prose4T hashtag. Please also use my badge below if you are linking up – it helps to publicise the linky to others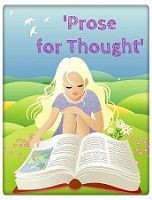 <div align="center"><a href="https://www.vevivos.com/prose-for-thought" title="Prose for Thought"><img src=" http://i1322.photobucket.com/albums/u568/ToriWel/Proseimagesmall_zps637beb08.jpg " alt="Prose for Thought" style="border:none;" /></a></div>
I am thrilled to say that Verily Victoria Vocalises has been shortlisted for the Social Media Category at the Brilliance in Blogging Awards. I would love your vote to help me to get to the finals and to be in with a chance of winning. Simply pop over to http://bit.ly/1GBA8iG
Copyright protected by Digiprove © 2015 Victoria Welton