Welcome one and all to this week's Post Comment Love. I must first apologise for not getting round to everyone last week – I am trying to play catch-up despite the external forces that are at work keeping me from you (that kind of sounds more mysterious and interesting than it actually is!).
This morning I shall be interviewing Carol Decker from T'Pau (watch out for the post next week) then tomorrow I am off to BlogCamp in Birmingham to help out so it will be great to see any of you who are coming along. It is a mighty long journey to do in one day from Somerset but I will make sure I chill out on the sofa when I get home. Ross is gigging tomorrow night so there will be lots of time to catch up on posts and the like then.
Next weekend, as Ross, Grace and I are away jollying it up in London, PoCoLo is going to be hosted over on KidGLloves. If you haven't heard of it before, then this space belongs to Grace and Lucas – but mostly Lucas at the moment – and Cathie, a fellow blogger and his Mum, keeps a tidy ship over there. So, armed with Haribo and Mummy juice, they will be looking after you. Don't worry though, I will remind you next Friday where you should be!
Whilst I am here, one of our own bloggers – Kat Drury who writes Ginger Snap Blog – is up for a student blogger award. Please go across and vote for her. It is really easy. Simply click on this link and select her blog http://www.safestore.co.uk/blog/2015/04/best-student-blogs/?utm_source=blog&utm_medium=social&utm_campaign=BL_NA_2015049
You may have noticed my new look blog. I am still working on the blogmin but I would love to know your thoughts. I am hoping it is easier to navigate. Along with that I have shared my photography and poetry prompt for the week, a post about Joseph Joseph kitchen utensils and I share some great summer fashion for girls from Melijoe. This week's post which I have linked up is all about the benefits of a water softner.
This week's #SoFoLo is Instagram. If you follow the person you click on, why not give them a helping hand with a like or a comment – and don't forget to use #SoFoLo so they know where you came from. Pop over and share your page. Also, don't forget our #SoFoLo community on Google + and our #PoCoLo Facebook group where you can come and post your PoCoLo post for some more shares as well as any of your social media accounts of yours that need more followers.
If you are a regular here then it would be great if you spread the #PoCoLo word. However, if you are new here then welcome! Post Comment Love is all about sharing posts which you have written this week which just haven't got the attention they deserve and, with them all in one place, we can help each other share the comment love. This is one of the easiest links EVER. You don't have a 'special theme' to have to write about, the post can be personal, sponsored, a photo, a review, a competition, your own linky, something you've linked to a linky….WHATEVER you like – it's one you've already written this week! If you want some publicity and attention, then you are in the right place!
Please make sure you go across and comment on at least two other linkers posts. Linkys work if everyone supports each other
 then spread the #PoCoLo about this link up on Twitter. The post you link up has to have been written in the last week. The link will go up every Friday at 6.30am and close on Sunday evening at 8pm. I will make sure I retweet anyone and also try my best to tweet out the posts with the PoCoLo badge being displayed on either the post or the sidebar.
I have a list for the Newbie Showcase running into February 2016. If you would like to be featured then please email me at vickywelton@hotmail.com so I can put you on the rota. Remember, your blog needs to be under a year old to feature from the time of sending your email to me.
This week's newbie showcase belongs to Ali from My Life My Love who has done so well in her first year.
Hiya, I'm Ali. Thank you so much to Victoria for including me in the Newbie Showcase.
In April 2014, my little girl was 3 months old and I decided that I would start blogging to simply document our lives as a family and to record the milestones of my children hence I started MyLife MyLove www.mylifemylove.com
It has proved to become the most fantastic hobby that in all honesty, I knew very little about. I was very naïve to the blogging world. I didn't know how time consuming it could be or perhaps in truth, how addictive it could be!
I have a wonderful husband who has gradually got used to sharing his evenings with me and my laptop! I have a gorgeous 4 year old son and a 1 year old little girl, who are my world. I have 2 handsome step sons who are 11 and 8, so our house is extremely busy at the weekends. But I like that, I like to keep busy.
You may already know that I have been a teacher for 15 years. I wrote a blog post a couple of weeks ago about my reasons behind why I left teaching and it went crazy! It went viral immediately and even now I am still getting comments from people who are in the same boat. http://mylifemylove.com/2015/04/02/why-ive-left-teaching/
I was completely overwhelmed by the number of views, comments and shares it received. I think it struck a chord with many.
Lots of people were asking me what I was doing after teaching. I am now doing 1:1 tuition in English and Maths and have started a new job as a Social Media Marketing and Content Manager. I wrote about here: http://mylifemylove.com/2015/04/09/so-it-went-viral-what-now/
I like to blog about the things we get up to as a family; days out or fun activities that I think my readers might be interested in. We love living on the South Coast so I love sharing photos of our beautiful beaches like this one about when we went sand dune jumping http://mylifemylove.com/2014/05/11/sand-dune-jumping/
My little boy loves being outdoors so I like to write about his adventures, usually on his bike! We have just found out which school he will be going to in September so I wrote about my hopes for him as he starts school http://mylifemylove.com/2015/04/18/dear-harley-as-you-start-school/
My blog has opened up so many opportunities from fabulous products to review, to becoming an Ambassador for some wonderful brands and even becoming a Mummy Blogger for a brilliant family theme park, Paultons Park.
Perhaps the thing I take most from blogging is the unbelievably supportive network from other bloggers. The online community is one that I never knew existed. I have made some wonderful 'virtual' friends that I really hope to meet one day.
Facebook https://www.facebook.com/mylifemylovedotcom?ref=hl
Twitter https://twitter.com/aliandlucky
Please go and say hi to Ali and don't forget all the other lovely linkers below. Have a great weekend xx
Go Over and share your Instagram profile with #SoFoLo HERE.
Link Your PoCoLo Posts here: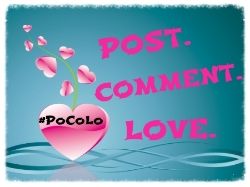 <div align="center"><a href="https://www.vevivos.com/post-comment-love" title="Post Comment Love"><img src=" http://i1322.photobucket.com/albums/u568/ToriWel/4e4a1bf6-07cb-494b-b06e-f959b1fe1311_zps654d027a.jpg" alt="Post Comment Love" style="border:none;" /></a></div>
Copyright protected by Digiprove © 2015-2016 Victoria Welton