Welcome everyone to this weeks Post Comment Love. How are you all? I finished commenting on everyone's posts from last week last night – I am so glad I got round to you all again.
Last weekend was an exciting one after watching Ross play with his band at the Yeovil Beer Festival. Then it was back to school for Grace on Monday and we have lots of exciting things coming up over the next couple of months – the first being a two night stay at a 5 star hotel in London with a trip to see The Railway Children with a specially built set at Kings Cross Station.
This weekend is all quiet on the western front – thank goodness. So I will carry on practicing my photography and putting myself to the test. With the lighter evenings and warmer days, it also means lots more walks and I have a pair of walking boots to put through it's paces.
This week I have shared a review of Hillarys who did a fantastic job supplying and fitting blinds in our conservatory and I am continuing my photography and poetry challenge – this week's word was 'Motivation'.
This week's #SoFoLo is Google +. If you follow the person you click on, why not give them a helping hand with a share or +1 – and don't forget to use #SoFoLo so they know where you came from. Pop over and share your page. Also, don't forget our #SoFoLo community on Google + and our #PoCoLo Facebook group where you can come and post your PoCoLo post for some more shares as well as any of your social media accounts of yours that need more followers.
If you are a regular here then it would be great if you spread the #PoCoLo word. However, if you are new here then welcome! Post Comment Love is all about sharing posts which you have written this week which just haven't got the attention they deserve and, with them all in one place, we can help each other share the comment love. This is one of the easiest links EVER. You don't have a 'special theme' to have to write about, the post can be personal, sponsored, a photo, a review, a competition, your own linky, something you've linked to a linky….WHATEVER you like – it's one you've already written this week! If you want some publicity and attention, then you are in the right place!
Please make sure you go across and comment on at least two other linkers posts. Linkys work if everyone supports each other
 then spread the #PoCoLo about this link up on Twitter. The post you link up has to have been written in the last week. The link will go up every Friday at 6.30am and close on Sunday evening at 8pm. I will make sure I retweet anyone and also try my best to tweet out the posts with the PoCoLo badge being displayed on either the post or the sidebar.
I have a list for the Newbie Showcase running into February 2016. If you would like to be featured then please email me at vickywelton@hotmail.com so I can put you on the rota. Remember, your blog needs to be under a year old to feature from the time of sending your email to me.
This week's newbie showcase is the lovely Sarah who blogs over at Loving Life with Little Ones.
Hi I'm Sarah and I blog over at Loving Life with Little Ones (http://www.lovinglifewithlittlones.com). I started writing my blog in January 2014 after I'd got chatting to a friend and found out that she wrote a blog, she suggested I had a go too as I had kept a diary when my eldest was born and like most things it fell by the wayside so a blog would be the perfect way to record family memories as well as a way of keeping touch with family around the globe. After picking her brains on where to start Loving Life with Little Ones was born, I got hooked and it all went from there.
I blog about life in the Cotswolds as a Stay at Home Mum to my three children known anonymously on the blog as the Little Ones, Little 1 aged 5, Little 2 aged 3 and our new addition Little 3 aged just 4 weeks who arrived rather suddenly (http://www.lovinglifewithlittleones.com/2015/03/welcome-to-world-little-3.html) and there is sometimes a mention of my husband, known as Daddy too.  I write mainly about the things we get up to, crafty bits we make, the places we go, parenting, and anything else that takes my fancy like my post on stifling creativity that got a few people thinking (http://www.lovinglifewithlittleones.com/2014/12/how-much-do-we-stifle-our-childrens.html). Things have been a bit quiet on the blog lately as I am still finding my feet as a mum to three, juggling a newborn and the school run, but that's a whole other post to write!
A big Thank You to Victoria for including me as newbie showcase this week, Please pop over tohttp://wwwlovinglifewithlittleones.com and have a browse and maybe even follow me on Twitter or Facebook too.
Facebook: http://facebook.com/lovinglifewithlittleones
Please go and say hi to Sarah and don't forget all the other lovely linkers below. Have a great weekend xx
Go Over and share your Google + profile with #SoFoLo HERE.
Link Your PoCoLo Posts here: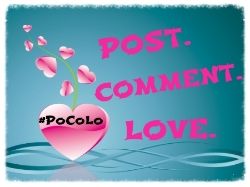 <div align="center"><a href="https://www.vevivos.com/post-comment-love" title="Post Comment Love"><img src=" http://i1322.photobucket.com/albums/u568/ToriWel/4e4a1bf6-07cb-494b-b06e-f959b1fe1311_zps654d027a.jpg" alt="Post Comment Love" style="border:none;" /></a></div>
Copyright protected by Digiprove © 2016 Victoria Welton