Hello! Welcome to Post Comment Love day everyone. How has your Easter week been? We have had a wonderful time and the weather has certainly been the icing on the cake to all of that.
This weekend sees Ross headlining the Yeovil Beer Festival with his band, D-State. If you want to find out more than pop on over to the band's website.
This week has been fairly slim on the post front as I have been too busy enjoying the Easter holidays! I have written a couple of reviews for Wicked Uncle and some multivitamin and mineral supplements as well as my latest poem – Inspiration. On top of all of that, I have interviewed Andy McCluskey, the lead singer of OMD, who are headlining this year's Rewind Festival. I have linked that below.
This week's #SoFoLo is the ever-present Twitter. If you follow the person you click on, why not give them a helping hand with a retweet – and don't forget to use #SoFoLo so they know where you came from. Pop over and share your page. Also, don't forget our #SoFoLo community on Google + and our #PoCoLo Facebook group where you can come and post your PoCoLo post for some more shares as well as any of your social media accounts of yours that need more followers.
If you are a regular here then it would be great if you spread the #PoCoLo word. However, if you are new here then welcome! Post Comment Love is all about sharing posts which you have written this week which just haven't got the attention they deserve and, with them all in one place, we can help each other share the comment love. This is one of the easiest links EVER. You don't have a 'special theme' to have to write about, the post can be personal, sponsored, a photo, a review, a competition, your own linky, something you've linked to a linky….WHATEVER you like – it's one you've already written this week! If you want some publicity and attention, then you are in the right place!
Please make sure you go across and comment on at least two other linkers posts. Linkys work if everyone supports each other
 then spread the #PoCoLo about this link up on Twitter. The post you link up has to have been written in the last week. The link will go up every Friday at 6.30am and close on Sunday evening at 8pm. I will make sure I retweet anyone and also try my best to tweet out the posts with the PoCoLo badge being displayed on either the post or the sidebar.
I have a list for the Newbie Showcase running into February 2016. If you would like to be featured then please email me at vickywelton@hotmail.com so I can put you on the rota. Remember, your blog needs to be under a year old to feature from the time of sending your email to me.
This week is another blogger that I feel has been around far longer than she actually has. Please say hi to Hannah from Budding Smiles.
Hi, I'm Hannah and I blog over at Budding Smiles, which started life 13 months ago as my online pregnancy diary. At the time I was 6 months pregnant with my now 9 month old son Toby and was totally clueless about blogging, so I'm proud of what Budding Smiles has grown into and now label it as a parenting and lifestyle blog.
I write monthly Toby updates, run a health and fitness Facebook page and weekly linky called From Blogging To Jogging and I blog and vlog about everything from our family holidays to current affairs which relate to me in some way or another; the most poignant one recently being my Farewell Letter to Terry Pratchett. I have also started a weekly guest blog series about the emotional health of parents, which went live last week withmy own story about the grey area between being 'fine' and having PND.
I like to be honest on my blog, whether it's a product review, the highs and lows of parenthood or just life in general and I think that's what has helped Budding Smiles to grow. I'm honoured to work with the amazing MAMA Academy as well as being a brand ambassador for Beebies Baby Store, Babymoov and Child's Farm, all of which are companies that I truly love and believe in.
I would like to thanks Vicky for featuring me on Newbie Showcase, I hope that you will pop over to my blog for a read and you can also find me on Twitter, Facebook, YouTube and Instagram so please do come and say hello!
Please go and say hi to Hannah and don't forget all the other lovely linkers below. Have a great weekend xx
Go Over and share your Twitter profile with #SoFoLo HERE.
Link Your PoCoLo Posts here: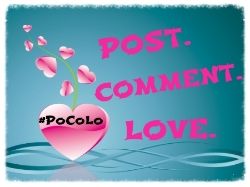 <div align="center"><a href="https://www.vevivos.com/post-comment-love" title="Post Comment Love"><img src=" http://i1322.photobucket.com/albums/u568/ToriWel/4e4a1bf6-07cb-494b-b06e-f959b1fe1311_zps654d027a.jpg" alt="Post Comment Love" style="border:none;" /></a></div>
Copyright protected by Digiprove © 2015 Victoria Welton