Welcome to this week's Post Comment Love! Firstly, I must apologise for not getting round to everyone last weekend – it has been one of 'those' weeks!!
I am rather excited about this weekend! There is lots going on. Firstly I am off to see Grace at her dance show at the Octagon Theatre in Yeovil. My Mum and Stepdad are coming up for it this evening and then she is performing again on Sunday. Then, tomorrow, is my first blogger event of the year – Blog On Cymru. I am SO looking forward to seeing everyone and, because I have just completed my first proper camera course, I am particularly looking forward to Captured by Lucy's photography session. If you are going, I will see you there!
This week my poetry prompt for Prose for Thought was all about 'Time', there is also the chance to win some Higgidy goodies in celebration of Pie Week and details on how you can win 12 pairs of Addidas trainers! 
I would like to get YOUR suggestions for what you would like to see publicised on the #SoFoLo link up. Do you have a social media account you want to publicise that I don't do enough of? Would you like me to do a #SoFoLo for events? Just tweet or email me and I will make sure I include it this year.
This week's #SoFoLo is to give each other some help with their social media measuring in the form of Klout. Pop over to find out what it is all about and share your profile. Also, don't forget our #SoFoLo community on Google + and our #PoCoLo Facebook group where you can come and post your PoCoLo post for some more shares as well as any of your social media accounts of yours that need more followers.
If you are a regular here then it would be great if you spread the #PoCoLo word. However, if you are new here then welcome! Post Comment Love is all about sharing posts which you have written this week which just haven't got the attention they deserve and, with them all in one place, we can help each other share the comment love. This is one of the easiest links EVER. You don't have a 'special theme' to have to write about, the post can be personal, sponsored, a photo, a review, a competition, your own linky, something you've linked to a linky….WHATEVER you like – it's one you've already written this week! If you want some publicity and attention, then you are in the right place!
Please make sure you go across and comment on at least two other linkers posts. Linkys work if everyone supports each other
 then spread the #PoCoLo about this link up on Twitter. The post you link up has to have been written in the last week. The link will go up every Friday at 6.30am and close on Sunday evening at 8pm. I will make sure I retweet anyone and also try my best to tweet out the posts with the PoCoLo badge being displayed on either the post or the sidebar.
I have a list for the Newbie Showcase running into December 2015. If you would like to be featured then please email me at vickywelton@hotmail.com so I can put you on the rota. Remember, your blog needs to be under a year old to feature from the time of sending your email to me. Sorry if I haven't got back to you yet – I will get round to you, I promise!
This week's newbie showcase really doesn't feel like a newbie anymore.  Sian over at Potty Mouthed Mummy reallly has become an established blogger and I always enjoy reading her newbie class feature every Monday.
I'm Sian, otherwise known in blogland as Potty Mouthed Mummy (http://pottymouthedmummy.com). My reasons for starting my blog are not terribly original I'm afraid. I have adored writing since I was very young. I was always lost in books as a youngster and my dreams were (and probably still are) to be a writer. For now, my blog gives me that creative release and a much needed hobby.
I started a blog half heartedly about two years ago but rarely wrote any posts and wasn't really publicising anything or creating a blog image for myself. In January of 2014 I leapt head first into a self hosted blog and well, here I am now completely enveloped in the world of blogging.
The name for my blog came from my husband really. He has been calling me potty mouthed for years and it seemed only fitting. I can confirm I do swear like a sailor but actually the swearing on the blog isn't that bad, I don't think so anyway!
My real life career since leaving University has been in the digital world, so I know quite a bit about the technical side of blogging, using advertising, images and the like. That's why I started my Newbie Class (http://pottymouthedmummy.com/newbie-class/) back in June of 2014. I wanted to share some tutorials on how to achieve simple goals on your blog.
There's been ups and downs in my time as a blogger, it's definitely not an easy journey at times. But I adore it and if nothing else, it's taught me to (cliche alert) stay true to myself and believe in the simplicity of writing what I want to write. Also, it's made me see that helping to celebrate and share other people's writing is one of my favourite aspects of being part of the blogging community. Which is why I also started my Tea and Cake feature (http://pottymouthedmummy.com/category/tea-and-cake/).
And where could I have learnt an ethic like that? Well from the lovely Vicky of course. A blogger who celebrates and helps new bloggers. That's a very special thing.
Twitter > https://twitter.com/pottymouthedmum
Pinterest > https://www.pinterest.com/pottymouthedmum/
Facebook > https://www.facebook.com/pottymouthedmummy
Blog > http://pottymouthedmummy.com/
Instagram​ > instagram.com/pottymouthedmummy
Please pay Sian and all the lovely linkers below, a visit. Have a great weekend xx
Go over and link your Klout profiles here.
Link Your PoCoLo Posts here: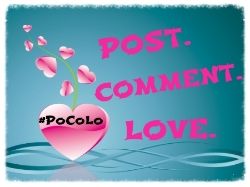 <div align="center"><a href="https://www.vevivos.com/post-comment-love" title="Post Comment Love"><img src=" http://i1322.photobucket.com/albums/u568/ToriWel/4e4a1bf6-07cb-494b-b06e-f959b1fe1311_zps654d027a.jpg" alt="Post Comment Love" style="border:none;" /></a></div>
Copyright protected by Digiprove © 2015-2016 Victoria Welton