Welcome to the end of February and this week's Post Comment Love and Newbie Showcase. I hope you have had a great week!
It was great to read so many fab blog posts last week – thank you so much for linking up.
This weekend Grace and I are off on a bit of an adventure. We are taking the train up to stay with my Mum and then, tomorrow, we are going to my sister's baby shower. We have got her some lovely goodies and, whilst I won't be able to eat any of the cake (!), I know I will have a great time.
I am hoping next week I will be able to reveal to you what I have been working on but, for now, this week's posts have included my #BetterPlaces space right here in Crewkerne, two posts about free stuff – one for Legal and General and the other for Truprint and also my Prose for Thought poem which I have linked below.
I would also like to welcome a brand new blogger to our fold. My brother, Jeremy, has just started to find his blogger feet. His blog is called Natural Depression Remedies and one of his posts is also included in the link. It would be great if you would go over and support him.
I would like to get YOUR suggestions for what you would like to see publicised on the #SoFoLo link up. Do you have a social media account you want to publicise that I don't do enough of? Would you like me to do a #SoFoLo for events? Just tweet or email me and I will make sure I include it this year.
As requested over on our Facebook group, this week's #SoFoLo is for your Instagram accounts. Pop over and share your profile. Also, don't forget our #SoFoLo community on Google + and our #PoCoLo Facebook group where you can come and post your PoCoLo post for some more shares as well as any of your social media accounts of yours that need more followers.
If you are a regular here then it would be great if you spread the #PoCoLo word. However, if you are new here then welcome! Post Comment Love is all about sharing posts which you have written this week which just haven't got the attention they deserve and, with them all in one place, we can help each other share the comment love. This is one of the easiest links EVER. You don't have a 'special theme' to have to write about, the post can be personal, sponsored, a photo, a review, a competition, your own linky, something you've linked to a linky….WHATEVER you like – it's one you've already written this week! If you want some publicity and attention, then you are in the right place!
Please make sure you go across and comment on at least two other linkers posts. Linkys work if everyone supports each other
 then spread the #PoCoLo about this link up on Twitter. The post you link up has to have been written in the last week. The link will go up every Friday at 6.30am and close on Sunday evening at 8pm. I will make sure I retweet anyone and also try my best to tweet out the posts with the PoCoLo badge being displayed on either the post or the sidebar.
I have a list for the Newbie Showcase running into December 2015. If you would like to be featured then please email me at vickywelton@hotmail.com so I can put you on the rota. Remember, your blog needs to be under a year old to feature from the time of sending your email to me. Sorry if I haven't got back to you yet – I will get round to you, I promise!
The original newbie showcase this week stopped blogging last year – and I hadn't realised! So please welcome instead one of the newer bloggers on the block – Tor from Tea Cup Toria.
Hello, I'm Tor AKA Teacup Toria and I'm delighted to be included on the Newbie Showcase.  I'm a fun seeking, wig wearing divorced mum to one 9 year old boy.  I blog over at www.teacuptoria.co.uk about life, love and the step family I'm trying to create.
I started blogging in January because I felt something was missing from my life, something incredibly important.  I'd always been creative as a child but somewhere along the way it had fallen by the wayside.  Life had become more about getting by, coping and trying to be the best mum I could be. Once I started blogging it felt as though a light had been switched back on.  Writing and drawing make me happy; it's as simple as that.
The name Teacup Toria was born out of one of my favourite past times; taking afternoon tea.  I delight in pretty teacups, teapots and cake stands!   I illustrate my blog with my own doodles.  My friends and family have enjoyed them for years in their birthday cards, so I thought others might enjoy them too.  They are very simple, black and white sketches but nothing gives me more pleasure than sitting down to create an illustration to a post I've written.
Over on Teacup Toria you can read about my dating as a parent http://www.teacuptoria.co.uk/d-is-for-dating-as-a-parent/ and how this has led to the exciting possibility of building a step family. http://www.teacuptoria.co.uk/to-hope-with-all-your-heart/
You can also read about my experience with alopecia; a condition I've had since childhood http://www.teacuptoria.co.uk/living-with-alopecia/ which I've included in my blog to raise awareness and provide inspiration for other sufferers.
Finally, if you enjoy a good limerick then you may enjoy reading 'Mum, what's twerking?'  http://www.teacuptoria.co.uk/mum-whats-twerking/ or hear what happens to my son at homework time…it's not pretty! http://www.teacuptoria.co.uk/beware-the-homework-monster/
You can follow my exploits on:
Facebook https://www.facebook.com/teacuptoria
Twitter https://twitter.com/teacuptoria
Instagram https://instagram.com/teacuptoria/
Pinterest https://pinterest.com/teacuptoria
I'd like to say a huge thank you to Vic for the opportunity to introduce myself on the Newbie Showcase.  I'm extremely excited to see what the future holds for Teacup Toria in 2015 and look forward to getting to know the lovely blogging community a whole lot more.
Tor xx
Please pay Tor and all the lovely linkers below, a visit. Have a great weekend xx
Go over and link your Instagram profiles here. 
Link Your PoCoLo Posts here: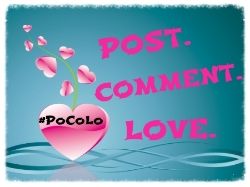 <div align="center"><a href="https://www.vevivos.com/post-comment-love" title="Post Comment Love"><img src=" http://i1322.photobucket.com/albums/u568/ToriWel/4e4a1bf6-07cb-494b-b06e-f959b1fe1311_zps654d027a.jpg" alt="Post Comment Love" style="border:none;" /></a></div>
Copyright protected by Digiprove © 2015-2016 Victoria Welton