Welcome to this week's Post Comment Love and Newbie Showcase. I hope you have all had a wonderful half term.
I just about managed to get round all of the linkers from last week – finishing yesterday afternoon! Thank you for your patience.
Despite the fact that I have had to work, Grace and I have had fun too. She is back from her fathers later and we are looking forward to a girly day tomorrow then, on Sunday, she is off to rehearse for a dance show she is in at the beginning of March.
I am still getting great results from the New You Plan TFR diet. I am so pleased that I am doing another 3 weeks on top of the 4 I already planned. They also have a fantastic refeed programme so you don't put all of the weight straight back on again!
I would like to get YOUR suggestions for what you would like to see publicised on the #SoFoLo link up. Do you have a social media account you want to publicise that I don't do enough of? Would you like me to do a #SoFoLo for events? Just tweet or email me and I will make sure I include it this year.
As requested over on Facebook, this week's #SoFoLo is for your Pinterest accounts. Pop over and share your profile. Also, don't forget our #SoFoLo community on Google + and our #PoCoLo Facebook group where you can come and post your PoCoLo post for some more shares as well as any of your social media accounts of yours that need more followers.
If you are a regular here then it would be great if you spread the #PoCoLo word. However, if you are new here then welcome! Post Comment Love is all about sharing posts which you have written this week which just haven't got the attention they deserve and, with them all in one place, we can help each other share the comment love. This is one of the easiest links EVER. You don't have a 'special theme' to have to write about, the post can be personal, sponsored, a photo, a review, a competition, your own linky, something you've linked to a linky….WHATEVER you like – it's one you've already written this week! If you want some publicity and attention, then you are in the right place!
Please make sure you go across and comment on at least two other linkers posts. Linkys work if everyone supports each other
 then spread the #PoCoLo about this link up on Twitter. The post you link up has to have been written in the last week. The link will go up every Friday at 6.30am and close on Sunday evening at 8pm. I will make sure I retweet anyone and also try my best to tweet out the posts with the PoCoLo badge being displayed on either the post or the sidebar.
I have a list for the Newbie Showcase running into December 2015. If you would like to be featured then please email me at vickywelton@hotmail.com so I can put you on the rota. Remember, your blog needs to be under a year old to feature from the time of sending your email to me.
This week's newbie showcase was a finalist in last years MAD Blog Awards for best new blogger and she shares some beautiful food.
My name is Hélène AKA Croque-Maman. I am a French mum of twins living in London and I blog at Croque-Maman (www.croque-maman.com), A French mum's cooking secrets.
I started blogging back in October 2013. I have always been a food lover. To me, not only is cooking a unique way to share and show people you care about them but it also sets the scene for family dinners, the perfect time to spend quality (even though hectic sometimes!!!) time together. Now that I am a mum myself, I really want to make sure I pass on this love of food to my children. I use my blog to document this and to share with my readers all the secrets of French family cooking.
You will find on Croque-Maman all about of French weaning (http://www.croque-maman.com/french-baby-weaning-4-6-months-old/), delicious quick and easy recipes such as "la tarte au thon" / tuna tart (http://www.croque-maman.com/tarte-au-thon/), French mums interviews (http://www.croque-maman.com/french-mum-interview-2-sandrine-tarte-au-chocolat/) and much much more. Make sure you check it out to discover my top tricks, tips and recipes to tickle your family's taste buds and imagination.
You can follow me on:
Or register to my newsletter on my blog homepage to receive the website updates in your inbox and some free exclusive content 🙂
Last but not least, I would like to say a huge thank you to Victoria for the opportunity to introduce my blog to you all!
Bon appétit!
Please pay Hélène and all the lovely linkers below, a visit. Have a great weekend xx
Go over and link your Pinterest profiles here. 
Link Your PoCoLo Posts here: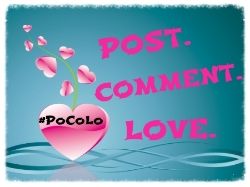 <div align="center"><a href="https://www.vevivos.com/post-comment-love" title="Post Comment Love"><img src=" http://i1322.photobucket.com/albums/u568/ToriWel/4e4a1bf6-07cb-494b-b06e-f959b1fe1311_zps654d027a.jpg" alt="Post Comment Love" style="border:none;" /></a></div>
Copyright protected by Digiprove © 2015-2016 Victoria Welton