This week's Photography and Poetry prompt is 'Love'. As I had already written about Ross last week, I decided that this week wasn't going to be the romantic kind of love. It had to be a mother's love.
The feeling of being a mother can be really overwhelming on so many different levels and for many different reasons. But being a Mum means unconditional love.
I have taken many photos of Grace over the 8 years she has been on this earth. I have to stay that I think that this is one of my favourites. It shows her vulnerability as she watches something on TV that is getting a bit scary and all I want to do is reach out and cuddle her.
Love
From the moment I held you in my arms
I knew I must keep you safe from harm
For you there is nothing I wouldn't do
I'd go to the ends of the earth for you
Like a lioness, I'd fight for alll your rights
Who cares about the sleepless nights
I look at you and I see pieces of me
I try hard to help you be all you can be
I want you to try and live all your dreams
And live life so full it bursts at the seams
Try your best, stand up for yourself
Don't you worry, you won't be left on the shelf
A mother one day may be what you become
And you'll no longer look out for number one
You'll start to share an understanding of some
Of the feelings that I share with my very own Mum
One day I am certain that you will find
The love of a mother, the unconditional kind
Victoria Welton 17th February 2015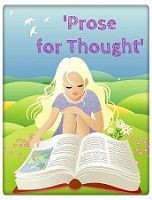 Copyright protected by Digiprove © 2015 Victoria Welton