Welcome to this week's Post Comment Love and Newbie Showcase and thank you to all 105 of you who linked up last week! I was really pleased to be able to get round to all of you by Monday.
This week has not been an easy one. I started a TFR diet on Monday. Something I have never done before and, believe me, hard is an understatement! On Tuesday afternoon I really did feel like I needed to punch something but a visit to the gym helped! I am now really feeling the benefits though and am much better.
This evening, Grace is off to her first sleepover party and she is a very excited little girl. It also means that Ross and I get some much valued time together. I am expecting a very tired Grace when she gets back tomorrow. I am also back off to Exeter again for the homeopathy trial.
I have written a number of posts this week and one of them appears on the Tots100 site. It is all about how to join a Blog Linky, so hop over there if you are not sure or if you are new to this. I have also reviewed the Paleo diet from Soulmate Food – a post that wasn't easy to write on Wednesday as I sat sipping my lunchtime shake!
I would like to get YOUR suggestions for what you would like to see publicised on the #SoFoLo link up. Do you have a social media account you want to publicise that I don't do enough of? Would you like me to do a #SoFoLo for events? Just tweet or email me and I will make sure I include it this year.
This week's #SoFoLo is a bit different. At the suggestion of Niki from Play Travel Life, this week is all about promoting yourself. Whether you run a small business or are a social media consultant please come and link up your website or profile such as LinkedIn or Etsy. Pop over and share your profile. Also, don't forget our #SoFoLo community on Google + and our #PoCoLo Facebook group where you can come and post your PoCoLo post for some more shares as well as any of your social media accounts of yours that need more followers.
If you are a regular here then it would be great if you spread the #PoCoLo word. However, if you are new here then welcome! Post Comment Love is all about sharing posts which you have written this week which just haven't got the attention they deserve and, with them all in one place, we can help each other share the comment love. This is one of the easiest links EVER. You don't have a 'special theme' to have to write about, the post can be personal, sponsored, a photo, a review, a competition, your own linky, something you've linked to a linky….WHATEVER you like – it's one you've already written this week! If you want some publicity and attention, then you are in the right place!
Please make sure you go across and comment on at least two other linkers posts. Linkys work if everyone supports each other
 then spread the #PoCoLo about this link up on Twitter. The post you link up has to have been written in the last week. The link will go up every Friday at 6.30am and close on Sunday evening at 8pm. I will make sure I retweet anyone and also try my best to tweet out the posts with the PoCoLo badge being displayed on either the post or the sidebar.
I have a list for the Newbie Showcase running into December 2015. If you would like to be featured then please email me at vickywelton@hotmail.com so I can put you on the rota. Remember, your blog needs to be under a year old to feature from the time of sending your email to me.
Please welcome this week's newbie showcase London Latte. This lady never fails to write an interesting post in my opinion.
I started London Latte to keep in touch with family 'back home'. Even though I have lived here for 16 years, (to the DAY tomorrow so how is that for timing!)… so many of my stories were as if I had just arrived and were really quite funny to everyone. Do you think it's okay to keep it less personal and call me by my nickname Tee? I have not been that involved with the blogging community and while I just adore so many, I still prefer to be more discrete…Let me know what you think about that? I trust your judgement. Otherwise we can say Christine.
As I say, I started the blog as a way of describing 'what it's like' to live in London to my family and friends back home in New York. Even though I had lived here for 15 years, I didn't speak like a local and certainly didn't sound like a local…but was starting to feel like a local Londoner more than a Native New Yorker.
So I decided to have a bit of 'cawfee talk' with everyone English style. Somehow, this always turned into toasting someone or something so I usually end the posts with a drink.
My interests are varied so LondonLatte, like so many of the wonderful blogs I read is really just about daily life. Some days more exciting than others…some days definitely more funny than others. I guess then I define it by what it's not.It is not a travel blog because most of the time, I am at home. I do travel from time to time but that is because there are so many school holidays in London (more on that on my blog), and the weather has been awful (a lot more on that on my blog).
It is not a mummy (mommy) or parenting blog because I am quite certain that I get it wrong most of the time; although you will read about my kids, and a lot about my kids' activities.
It is not a cooking blog because I don't cook all of the time. I love great food and fresh ingredients, but I love to cook when I want to cook. I may write from time to time about food or recipes, but certainly not as instruction.
It is not a fashion blog because…well, see above because most of the time I am at home. This is not to say that I do not care about fashion, but…well, I'm not really sure if I care about fashion.
Many people have asked me over the years, 'so what's it like to live in London'. I am not a tourist because London is my home. I have lived here for 16 years EXACTLY when this gets posted on February 6th! I continue to be shocked, surprised and seduced by this city and the
people I share it with. It is now my home.
So what does all of this have to do with you? Probably not much… but if it makes you giggle or smile then maybe it's worth telling. Thank you Vicky for introducing me to so many new friends. I look forward to getting to know everyone.
twitter @mylondonlatte.com
facebook www.facebook.com/london.latte
Please pay Tee and all the lovely linkers below, a visit. Have a great weekend xx
Go Over and share your Small Business profile with #SoFoLo HERE.
Link Your PoCoLo Posts here: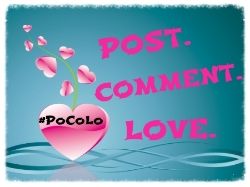 <div align="center"><a href="https://www.vevivos.com/post-comment-love" title="Post Comment Love"><img src=" http://i1322.photobucket.com/albums/u568/ToriWel/4e4a1bf6-07cb-494b-b06e-f959b1fe1311_zps654d027a.jpg" alt="Post Comment Love" style="border:none;" /></a></div>
Copyright protected by Digiprove © 2015 Victoria Welton