Welcome to this week's photography and poetry prompt. A reminder that I am linking up to Mummy B's Photography challenge and using it as a poetry prompt too.
This week's prompt is rather appropriately 'Lifestyle'. Regular readers of my blog will know that, at the moment, I am trying to get fit and healthy and lose weight in order to make me feel better and assist my fertility.
This week I have started my hardest challenge in the form of the New You Plan TFR diet but I am of the opinion 'no pain, no gain' (or should I say 'loss' hopefully in this case!!). Anyway, the image is of the diet I am now on for 4 weeks and it has helped to inspire this week's poem.
 Lifestyle
It's your life, you need to see it's up to you
Exactly how you live and precisely what you do
Making excuses for why you don't achieve
Well who exactly are you trying to deceive
Get off your backside and make some effort
One step at a time, first the right then the left foot
It isn't going to happen unless you do something
After all you get out just what you put in
Exercise your willpower, it's a state of mind
Look deep inside, you might like what you find
Maintain your body and keep your mind healthy
It doesn't take much, you don't need to be wealthy
Whether it be a diet or self-help book you need
Pick up and run with it, do yourself a good deed
Because in the end it will all be worthwhile
Go ahead and find your healthy lifestyle
Victoria Welton 2nd February 2015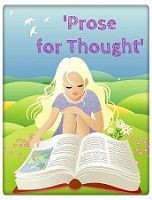 Copyright protected by Digiprove © 2015 Victoria Welton