It is Post Comment Love time again and here we are at the end of January! I can't say I am disappointed about it if I am honest, although January on the whole has been pretty kind to us. Despite the usual coughs and colds, we have got through the month pretty unscathed and I am now looking forward to one of my favourite months of the year.
This week has been a really positive one for me on the diet front. I have been reviewing Soulmate food and you can see a full review of all 6 days of their food on my blog next week. They are expensive but by golly it feels like you are eating at a restaurant with every meal! It was the Paleo diet and I have to admit that I was apprehensive about losing weight. My diet post will be up today so you can see how I got on.
Grace has continued to practice her piano, dance and go to Brownies and Ross has been away on business for 3 days this week (he is back this evening) and I have to say that whilst I don't like him being away, it is lovely being able to miss him for a change.  We have another family weekend ahead of us and I am really looking forward to it.
This week I have a large selection of posts which I have written including the support about raising awareness of Endometriosis (which I was chuffed to have chosen as a good ready by Tots100), a review of a very clever fertility monitor, my photo and poetry prompt and a review of the SodaStream.
I would like to get YOUR suggestions for what you would like to see publicised on the #SoFoLo link up. Do you have a social media account you want to publicise that I don't do enough of? Would you like me to do a #SoFoLo for events? Just tweet or email me and I will make sure I include it this year.
This week's #SoFoLo belongs to Tiwtter. If you are already following the person you click on, why not help them by retweeting them – and don't forget to use #SoFoLo so they know where you came from. Pop over and share your profile. Also, don't forget our #SoFoLo community on Google + and our #PoCoLo Facebook group where you can come and post your PoCoLo post for some more shares as well as any of your social media accounts of yours that need more followers.
If you are a regular here then it would be great if you spread the #PoCoLo word. However, if you are new here then welcome! Post Comment Love is all about sharing posts which you have written this week which just haven't got the attention they deserve and, with them all in one place, we can help each other share the comment love. This is one of the easiest links EVER. You don't have a 'special theme' to have to write about, the post can be personal, sponsored, a photo, a review, a competition, your own linky, something you've linked to a linky….WHATEVER you like – it's one you've already written this week! If you want some publicity and attention, then you are in the right place!
Please make sure you go across and comment on at least two other linkers posts. Linkys work if everyone supports each other
 then spread the #PoCoLo about this link up on Twitter. The post you link up has to have been written in the last week. The link will go up every Friday at 6.30am and close on Sunday evening at 8pm. I will make sure I retweet anyone and also try my best to tweet out the posts with the PoCoLo badge being displayed on either the post or the sidebar.
I have a list for the Newbie Showcase running into November 2015. If you would like to be featured then please email me at vickywelton@hotmail.com so I can put you on the rota. Remember, your blog needs to be under a year old to feature from the time of sending your email to me.
This week the newbie showcase belongs to Sharon from one of my favourites, A Saucy Stitch. She always such eclectic taste and I love it!
Hi!  I'm Sharon aka Giddy Aunt Lola, mum of five children, three of whom are still living at home; curly girl is 7, the drama-teen is 13 and their big brother is 22.  I live in a lovely old farmhouse in the Kent countryside with my current husband (I like to keep him on his toes!), 2 mucky hounds, 2 gossiping guinea pigs, 3 Bluebell Chooks and a dining room fit to burst with vintage china.
My blog, A Saucy Stitch, was born in June 2013 and came about whilst I was in the midst of an Open University degree, studying Creative Writing.   I started to blog out of an urge to write and to share with others all the things that make me happy and give some escape from the mundanities of life.   I'd been an avid reader of sewing, crafting and cookery blogs for a couple of years before I took the plunge into A Saucy Stitch and my blog posts have a light hearted, humorous thread in them that reflects my 'Carry On' sense of humour.
I am Queen of Charity Shops and love to hunt out vintage china and fabric to give it another lease of life and share them on my blog.   I love to imagine the history of the lovely treasures I find and celebrate the values of a previous generation who knew how to make-do-and-mend; an antidote to the madness of the throw-away culture we live in.   I also blog about my adventures in learning to sew and share yummy cake recipes; I confess to being a bit of a 'Slack Alice' sometimes and to being too disorganised  to blog about half the things that are in my head!
In 2015, I plan to whip my saucy little blog into shape with more sewing, healthy eating, baking and thrifty based posts together with a large dollop of 'ooh-errr-missus'! These are the things that add the cherry to the top of the knickerbocker glory of my life.  My dream date would be afternoon tea on the lawn with Miss Marple, Mary Berry, Patrick Grant and Kenneth Williams.
Here are my social media links:
http://instagram.com/giddyauntlola/
Thanks ever so much to the wonderfully generous Vicky for having me and I would love it if you all popped over and said hello.
TTFN. Galx (aka Sharon blogging as Giddy Aunt Lola)
Please pay Sharon and all the lovely linkers below, a visit. Have a great weekend xx
Go Over and share your Twitter profile with #SoFoLo HERE.
Link Your PoCoLo Posts here: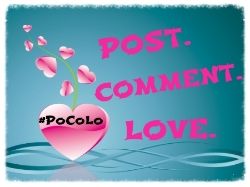 <div align="center"><a href="https://www.vevivos.com/post-comment-love" title="Post Comment Love"><img src=" http://i1322.photobucket.com/albums/u568/ToriWel/4e4a1bf6-07cb-494b-b06e-f959b1fe1311_zps654d027a.jpg" alt="Post Comment Love" style="border:none;" /></a></div>
Copyright protected by Digiprove © 2015-2016 Victoria Welton