Welcome to Post Comment Love! How are you all? Well I hope. I am. This new health and fitness plan is really helping! I was really pleased to be able to get round to commenting on all the posts again last week – even if it did take me into mid-week. I also tweeted out any posts which had the PoCoLo badge or a link.
This week has been a lovely family week. We went to see The Hobbit on Monday after school, the Grace got enrolled at Brownies on Tuesday and Wednesday and Thursday evenings meant a new gym for me. This weekend is another normal one for us – whatever that means! I shall continue with my health and fitness regime and am really looking forward to starting a week of the Paleo diet thanks to Soulmate Foods on Monday.
I am now displaying the newbie showcase's badge in my sidebar and, don't forget, If you would like your blog, or linky, or anything else (maybe you have a campaign you want to share or are raising money for charity?) featured at the top of this post then please get in contact with me at vickywelton@hotmail.com and I will start a rota. If your feature is time sensitive then I will make sure I put you ahead.
I would like to get YOUR suggestions for what you would like to see publicised on the #SoFoLo link up. Do you have a social media account you want to publicise that I don't do enough of? Would you like me to do a #SoFoLo for events? Just tweet or email me and I will make sure I include it this year.
By popular demand this week's #SoFoLo is for your YouTube channels. If you are already following the person you click on, why not help them by liking or leaving a comment on one of their videos – and don't forget to use #SoFoLo so they know where you came from. Pop over and share your channel. Also, don't forget our #SoFoLo community on Google + and our #PoCoLo Facebook group where you can come and post your PoCoLo post for some more shares as well as any of your social media accounts of yours that need more followers.
If you are a regular here then it would be great if you spread the #PoCoLo word. However, if you are new here then welcome! Post Comment Love is all about sharing posts which you have written this week which just haven't got the attention they deserve and, with them all in one place, we can help each other share the comment love. This is one of the easiest links EVER. You don't have a 'special theme' to have to write about, the post can be personal, sponsored, a photo, a review, a competition, your own linky, something you've linked to a linky….WHATEVER you like – it's one you've already written this week! If you want some publicity and attention, then you are in the right place!
Please make sure you go across and comment on at least two other linkers posts. Linkys work if everyone supports each other
 then spread the #PoCoLo about this link up on Twitter. The post you link up has to have been written in the last week. The link will go up every Friday at 6.30am and close on Sunday evening at 8pm. I will make sure I retweet anyone and also try my best to tweet out the posts with the PoCoLo badge being displayed on either the post or the sidebar.
I have a list for the Newbie Showcase running into November 2015. If you would like to be featured then please email me at vickywelton@hotmail.com so I can put you on the rota. Remember, your blog needs to be under a year old to feature from the time of sending your email to me.
This week's newbie showcase was another no show so, as with Blogger Mummy Lauren I offered the space to another blogger who was supposed to have her time just before Christmas. Please say hello to Kat from Mummy Whiskers.
Hi there, I'm Katrina, otherwise known as Mummy Whiskers. I'm a 33 year old Yorkshire lass, married to Scott (or S as you may know him on the blog) and we have a gorgeous little boy, G. We also have two cats, Sooty and Sweep, although sometimes it is three with the addition of Ringo, my Big Brother's cat who lives next door! I'm a stay at home mummy and I love every minute of it; I am also a Breastfeeding Peer Support Volunteer and a volunteer for a charity called Pregnancy Sickness Support.
I started my blog in October 2013, I was inspired to do so by Pregnancy Sickness Support actually, I had been contributing to a fund raising blog called Nine Months Of and this pushed me on to create the Mummy Whiskers blog. Pregnancy Sickness Support provides information and support for health care professionals and women affected by pregnancy sickness and who suffer from the more extreme end of the scale, Hyperemesis Gravidarum. I suffered with HG myself when I carried G so I know first-hand what a horrific illness it is. Fortunately we made it to the other side and are now here to tell the tale and help others going through the same thing.
I write about the charity often and I also write a lot about breastfeeding too, especially breastfeeding a toddler, which is where I am at now! I also have a huge passion for food, cake and sweet treats especially! This doesn't help my diet of course! You will often find recipes popping up on the blog and sometimes how to guides when I decorate a cake. Apart from all of that I tend to write about our life in general, days out or events and I enjoy working on reviews too!
I am so excited to be featured on Vicky's Newbie Showcase; VeViVos is one of the first blogs that I started reading and I have always admired Vicky's blogs. So thank you Vicky for having me! I shall stop rambling now, so I will finish off by giving you my links below just in case you want to get to know me better and wish you all a wonderful weekend!
Katrina x
https://www.facebook.com/mummywhiskers
https://twitter.com/mummywhiskers
https://plus.google.com/+MummyWhiskers
http://instagram.com/mummywhiskers
http://www.pinterest.com/mummywhiskers
https://www.youtube.com/user/mummywhiskers
Please pay Katrina and all the lovely linkers below, a visit. Have a great weekend xx
Go Over and share your YouTube profile with #SoFoLo HERE.
Link Your PoCoLo Posts here: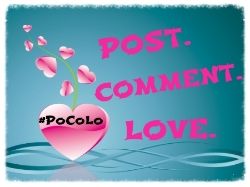 <div align="center"><a href="https://www.vevivos.com/post-comment-love" title="Post Comment Love"><img src=" http://i1322.photobucket.com/albums/u568/ToriWel/4e4a1bf6-07cb-494b-b06e-f959b1fe1311_zps654d027a.jpg" alt="Post Comment Love" style="border:none;" /></a></div>
Copyright protected by Digiprove © 2015 Victoria Welton