This week's photography and poetry prompt is 'Simplicity' – something I am guilty of not doing so well with as I tend to over-analyse far too much of my life and things in general. I am known to spend far too long using the spoken word to explain things and use twenty words when ten would probably be enough. Funnily enough I am pretty good with my blog posts – I can't stand reading long-winded, rambling ones so I don't do it myself!
I am going to let my photo and my poem speak for themselves.
Simplicity
Over-complication, it can tie you up in a knot
Why over-analyse each potential and everything that you've got
Going over everything time and time again
Will put all your thoughts in overdrive and then it will fry your brain
You come into this world with nothing, with no thoughts or possessions
It's funny how, as we grow, then so do our obsessions
It makes me wonder how we get to the place in which we are
How some of us fall by the wayside and some us reach for a star
Because what is it we are searching for as we make our way
And is it all worth anything as we reach the end of our day
Our life isn't meant to be wasted on fretting our time away
It's all about the journey and how we've spent each day
So keep it all straightforward, make it simple, keep it clear
What have you got to lose if you do it, go on and feel the fear
You are only here for a short time, make the most of what you've got
And if you have a life ambition go on and take a shot
We need to look at who we are and who we want to be
But when it comes to setting goals, simplicity is the key
Victoria Welton 15th January 2015 (with credit for the last two lines to Ross Williams).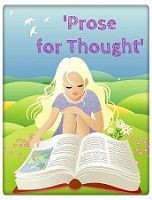 Copyright protected by Digiprove © 2015 Victoria Welton