So, where on earth did that week go?! Here we are again. Friday and Post Comment Love. Thank you to a whopping 103 of you who linked up last week – it was great to see lots of new people there too. If you are not on the #PoCoLo tweet out list and would like to be, then please let me know. In the same vein, if you want to come off it then please do tell me. My tweet out not only helps to remind people of the linky, but it helps the #newbieshowcase get some attention.
I have to say that I always find the second week back far better than the first one. People seem to be putting things into action and I have a good week with getting organised. My homeopathy appointment went well and I am now waiting to see what they have concocted for me. My visit to Exeter also enabled me to put my photography into practice and I shared the photos on Victoria Visits. The latest photography and poetry prompt was 'Cold' – and I have to say that I have suffered somewhat with that over the last week. Then, yesterday, I started my new health and fitness plan.
This weekend is a quiet one for us. I am looking forward to some quality family time with a possible visit to the cinema.
I am now displaying the newbie showcase's badge in my sidebar and, don't forget, If you would like your blog, or linky, or anything else (maybe you have a campaign you want to share or are raising money for charity?) featured at the top of this post then please get in contact with me at vickywelton@hotmail.com and I will start a rota. If your feature is time sensitive then I will make sure I put you ahead.
I would like to get YOUR suggestions for what you would like to see publicised on the #SoFoLo link up. Do you have a social media account you want to publicise that I don't do enough of? Would you like me to do a #SoFoLo for events? Just tweet or email me and I will make sure I include it this year.
This week #SoFoLo is back to good old Facebook. If you are already following the person you click on, why not help their page by liking or leaving a comment on one of their posts or even sharing – and don't forget to use #SoFoLo so they know where you came from. Pop over and share your profile. Also, don't forget our #SoFoLo community on Google + and our #PoCoLo Facebook group where you can come and post your PoCoLo post for some more shares as well as any of your social media accounts of yours that need more followers.
If you are a regular here then it would be great if you spread the #PoCoLo word. However, if you are new here then welcome! Post Comment Love is all about sharing posts which you have written this week which just haven't got the attention they deserve and, with them all in one place, we can help each other share the comment love. This is one of the easiest links EVER. You don't have a 'special theme' to have to write about, the post can be personal, sponsored, a photo, a review, a competition, your own linky, something you've linked to a linky….WHATEVER you like – it's one you've already written this week! If you want some publicity and attention, then you are in the right place!
Please make sure you go across and comment on at least two other linkers posts. Linkys work if everyone supports each other
 then spread the #PoCoLo about this link up on Twitter. The post you link up has to have been written in the last week. The link will go up every Friday at 6.30am and close on Sunday evening at 8pm. I will make sure I retweet anyone and also try my best to tweet out the posts with the PoCoLo badge being displayed on either the post or the sidebar.
I have a list for the Newbie Showcase running into November 2015. If you would like to be featured then please email me at vickywelton@hotmail.com so I can put you on the rota. Remember, your blog needs to be under a year old to feature from the time of sending your email to me.
The original newbie showcase this week is not writing her blog right now so she made way for another blogger who was supposed to have her time just before Christmas. Please welcome Blogger Mummy Lauren.
Hello everybody, my name is Lauren and I blog at Blogger Mummy Lauren. I'm a 27 year old Geordie lass living in Northern Ireland with my hubby, my two crazy kids Neil & Caitlin, and my two even crazier cats, Candy & Poffy.
We moved from Newcastle to a wee village in Northern Ireland about 5 years ago. I've always been a big city girl, with little to no experience of the countryside, so the change was massive for me.
I started my blog in January 2014. At first it was just something to do in the evenings because I was a bit bored after the kids had gone to bed, and I loved the idea that I could write about our life and give the kids a wee something to look back on.
A year on, I feel like I have come so far! What started as just a little hobby, has now become a part of me. I can't imagine my life without blogging now, which might sound dramatic after only a year, but I honestly feel blogging has changed me for the better. My confidence has grown, I'm doing more with the kids, and I'm absolutely loving life!
I find it hard to describe what my blog is about, it's just a bit of me I guess! I write about our family life and all of our adventures, my sons ASD and special educational needs, my fitness journey, it's really just my ramblings! I'm still surprised to find that people are actually reading it!
I'm a bit of a keen amateur photographer, and having recently got my first 'big camera' I have taken to posting a lot of my photos on my blog, and it's something I'm hoping to develop throughout 2015.
Well I suppose I should be quiet now, I think I've rambled on a bit too much. If you would like to come and get to know me a little better you can find me at:
Hope to get chatting to you all soon my little lovelies! Thanks for taking the time to read all of my jazz!xx
Please pay Lauren and all the lovely linkers below, a visit. Have a great weekend xx
Go Over and share your Facebook profile with #SoFoLo HERE.
Link Your PoCoLo Posts here: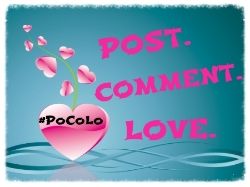 <div align="center"><a href="https://www.vevivos.com/post-comment-love" title="Post Comment Love"><img src=" http://i1322.photobucket.com/albums/u568/ToriWel/4e4a1bf6-07cb-494b-b06e-f959b1fe1311_zps654d027a.jpg" alt="Post Comment Love" style="border:none;" /></a></div>
Copyright protected by Digiprove © 2015 Victoria Welton