Several years ago, when I realised that I was going to be sitting at my computer and doing a lot of writing every day (as professional writers tend to do), I looked into methods for sparing my bottom and my back the agony of being held hostage by my office chair for 8 to 12 hours every day.
One of the solutions that I found was the Nuance Dragon NaturallySpeaking dictation software. I purchased version 9, installed it and away I went. It was very useful to me, especially when writing a book that I have yet to look into publishing – the story of my time running a recruitment company mixed with advice for small to medium-size business owners. Not only were the benefits of the dictation software evident physically but they were also quite clear in terms of my efficiency as a writer.
If I am tapping away at the keyboard, I can generally manage anywhere between 4000 to 6000 words on a good day of writing. Using Dragon, I was able to regularly achieve at least 8000 words per day, even achieving more than 10,000 words in a single work day at times.
As the years progressed, I started using Dragon less and less because the work I was doing needed me to be more hands-on with the keyboard. After buying a new PC in 2013, I decided to give Dragon a go again so bought the newest version, which was 12.5. To be honest, I found this version incredibly disappointing. It took a long time to train and still made a considerable number of mistakes. It was difficult to control, somehow managing to delete my profile several times – which took me right back to square one – and was, ultimately, more of a time thief than a time-saving device.
When Victoria suggested that I might like to receive and review Dragon's newest version, lucky number 13, I was sceptical. Fast forward a month and I am delighted to say that my scepticism was unfounded – this software is exceptionally good. In fact, I'm using it to write this very article.
The first thing I noticed is that there was not the need of previous versions to go through a huge education process with the software. It was able to quickly recognise my voice and replicate what I was saying on paper. The number of programs it can be used with has been expanded, including multiple web browsers and email packages. You can even use it in Hotmail, something that I believe lacked in previous iterations. There are some applications which are not compatible – the most frustrating one for me, as a screenwriter, is Final Draft but I guess we can't have everything.
It is possible to use this software to not only write but also to control your computer. There are a number of commands available to the user that are all fairly intuitive which allow you to open programs, navigate the web and even move your mouse!
Another excellent feature is the ability to correct any errors that the software makes via voice control. Rather than having to highlight a particular piece of text and then type over the inaccuracy, the user is able to speak to the computer and correct the error that way with reasonable ease.
In terms of accuracy, I would rate this software as very good indeed. I've been looking at what has been being jotted down whilst I'm dictating and have seen only a couple of mistakes so far. Very often, mistakes made are not the fault of the software but the fault of the user because, realistically, how many times do we talk all the way through a sentence that will look good on paper without making a mistake and in one long flow? Certainly not that last sentence, I'll tell you…!
There are numerous other things that the software can do but, truth be told, I haven't looked too far into them because they are not that useful to me. However, for people who would value things such as being able to record your dictation on the go and then have Dragon scribble it all down for you later, or a playback option so you could hear what you said, you will not be disappointed with what is on offer here. I thoroughly urge you to look at the specs of the product and see whether or not it could make your work day much more effective.
In closing, here is something that might well hold weight for any readers who are on the fence – I timed myself when dictating this and it has taken me a total of 19 minutes to produce more than 800 words. Proofreading and making corrections took me a further 5 minutes.
A near 900 word review in less than half an hour – that's not bad whichever way you look at it and, better still, I was able to pace around my room the whole time I was doing it!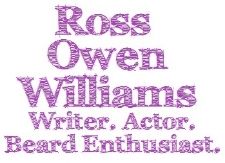 This review was carried out by my partner, Ross Owen Williams.
Disclosure: We were sent the Nuance Dragon NaturallySpeaking Premium v13 for the purpose of this review, however, all words and opinions forms belong to Ross and have not been influenced in any way.
Copyright protected by Digiprove © 2015 Victoria Welton