Welcome one and all to Post Comment Love and Happy December! I can't believe that there is less than 3 weeks until the big day. Where has this year disappeared to? I hope you like my Christmas decorations!
First of all I must warn you that InLinkz is down for maintenance for 4 hours at some point tomorrow (Saturday) evening. This will likely mean that you can't link up and it may mean that the linky won't show. Although I can't be certain of that!
I am rather excited about this weekend. Ross, Grace and I are off to Wookey Hole and Santaland on Sunday. We are paying Father Christmas a visit and Grace has been asked to bring her Christmas List. Other than that, I shall be taking it easy.
There are still a couple of giveaways running on my blog and you can find the current ones over in my Big Charity Christmas Giveaway. I was thrilled to more than double the charity donations to Unique this week thanks to so many people's generosity. If you would like to give a little something to Unique then here is my Just Giving page.
This week I have reviewed a great Christmas card service from Postsnap, written a festive poem on Prose for Thought and reviewed the rather wonderful GTech Multi.
This week's #SoFoLo is to gain some more Pinterest followers, likes, re-pins and comments. So pop over and share your profile. If you find you are already following someone then why not comment,  like and/or re-pin one of their posts? Please use the #SoFoLo hashtag when you comment to let them know where you came from. Also, don't forget our #SoFoLo community on Google + and our #PoCoLo Facebook group where you can come and post your PoCoLo post for some more shares as well as any of your social media accounts of yours that need more followers.
If you are a regular here then it would be great if you spread the #PoCoLo word. However, if you are new here then welcome! Post Comment Love is all about sharing posts which you have written this week which just haven't got the attention they deserve and, with them all in one place, we can help each other share the comment love. This is one of the easiest links EVER. You don't have a 'special theme' to have to write about, the post can be personal, sponsored, a photo, a review, a competition, your own linky, something you've linked to a linky….WHATEVER you like – it's one you've already written this week! If you want some publicity and attention, then you are in the right place!
Please make sure you go across and comment on at least two other linkers posts. Linkys work if everyone supports each other
 then spread the #PoCoLo about this link up on Twitter. The post you link up has to have been written in the last week. The link will go up every Friday at 6.30am and close on Sunday evening at 8pm. I will make sure I retweet anyone and also try my best to tweet out the posts with the PoCoLo badge being displayed on either the post or the sidebar.
I have a list for the Newbie Showcase running into November 2015. If you would like to be featured then please email me at vickywelton@hotmail.com so I can put you on the rota. Remember, your blog needs to be under a year old to feature from the time of sending your email to me.
This week, please welcome Pickle from The Little Life of Ickle Pickle as newbie showcase.
Why did I start my blog?
I started my blog in February this year, when I was 15months old, as somewhere to write about my life. My biggest sister started hers last year, and when she was telling us all about it, we thought it sounded fab! I asked Mummy if we could have one too, and Mummy thought it would be cute if I wrote it 😉 Mummy has kept diaries about me, from the minute she knew about me! She is helping me to add these to my blog, and there were some fab posts about Mummy's labour, and my birth that we wrote as I turned 2 in October.
Who am I?
I am the youngest of 4, my sisters being 15 (next week) and 18, and my brother who is 12. Mummy was 41 when I was born. I was her little surprise! We live with Mummy, except MeeMee (biggest sis) who has just gone to Uni in Bristol. We live in West Wales, a beautiful part of the country. We also have two funny cats. Mummy and Daddy are no longer together.
What is my life like?
My life is crazy, busy, mad – but the best! Mummy has lots of jobs working for herself and I have persuaded her to make blogging her main job, as we both love it so much! We never knew what blogging would bring to us. We have made some great friends, and Mummy has met a couple of them too. I have had toys and books, Mummy and I have had clothes and we recently had an amazing new carpet cleaner (boring!?? No! Mummy LOVES it!) we have all had meals out and a night away, and we are just starting to get paid for our writing too!
Where do I see my blog next year?
Growing and growing! Mummy is already booked on two big blog events, and with me starting a playgroup a couple of times a week, she will have more time for blogging (on my behalf of course!) Oh and look out for more vlogs and videos too, as Mummy has an early Christmas present of a Go Pro camera 🙂
Please pay Pickle and all the lovely linkers below, a visit. Have a great weekend xx
Go Over and Link Your #SoFoLo Pinterest Account HERE.
Link Your PoCoLo Posts here:
'); // ]]>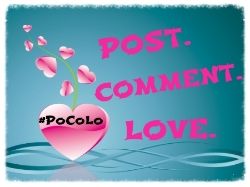 <div align="center"><a href="https://www.vevivos.com/post-comment-love" title="Post Comment Love"><img src=" http://i1322.photobucket.com/albums/u568/ToriWel/4e4a1bf6-07cb-494b-b06e-f959b1fe1311_zps654d027a.jpg" alt="Post Comment Love" style="border:none;" /></a></div>
Copyright protected by Digiprove © 2014-2016 Victoria Welton