Welcome to this week's Post Comment Love! I can't believe that this time next week we will be into our first full week of December. Thank you for all your congratulations on my 1,000th post last week, I really appreciate it.
You may have noticed something special about this week's badge. It belongs to Renee at Mummy Tries and is the cover of her brand new book 'Become the Best You' which is launched today! If you click on the image, it will take you over to Amazon where you can make your purchase. Goodness knows how she has managed to write this, have a new baby, already have kids and go back to work. I am really looking forward to reading it. Congratulations Renee, here's wishing you all the best.
It has been a great week for giveaways on my blog. Not only am I giving away a Lava Stone Steak Set worth £62 but I am also giving away a Bissell Vac and Steam Cleaner worth £149.99. I have written a poem over on Prose for Thought about positivity and Lorraine from Gin & Cornflakes wrote a guest post about the NHS.
Tomorrow I am off to do some Christmas shopping with Ross whilst Grace is away and, other than that I will be reading your fab posts!
This week #SoFoLo is for twitter and, more specifically, for you to have a specific tweet retweeted! It makes the linky even simpler 🙂 Pop over and share your Tweet URL. Also, don't forget our #SoFoLo community on Google + and our #PoCoLo Facebook group where you can come and post your PoCoLo post for some more shares as well as any of your social media accounts of yours that need more followers.
If you are a regular here then it would be great if you spread the #PoCoLo word. However, if you are new here then welcome! Post Comment Love is all about sharing posts which you have written this week which just haven't got the attention they deserve and, with them all in one place, we can help each other share the comment love. This is one of the easiest links EVER. You don't have a 'special theme' to have to write about, the post can be personal, sponsored, a photo, a review, a competition, your own linky, something you've linked to a linky….WHATEVER you like – it's one you've already written this week! If you want some publicity and attention, then you are in the right place!
Please make sure you go across and comment on at least two other linkers posts. Linkys work if everyone supports each other
 then spread the #PoCoLo about this link up on Twitter. The post you link up has to have been written in the last week. The link will go up every Friday at 6.30am and close on Sunday evening at 8pm. I will make sure I retweet anyone and also try my best to tweet out the posts with the PoCoLo badge being displayed on either the post or the sidebar.
I have a list for the Newbie Showcase running into October 2015. If you would like to be featured then please email me at vickywelton@hotmail.com so I can put you on the rota. Remember, your blog needs to be under a year old to feature from the time of sending your email to me.
This week, please welcome Karen from Stopping At Two.
I'm Karen at Stopping At Two blog. I started my blog back in January. At that time, my youngest daughter had just turned 6 months and my eldest was 2. I was finding being a mum of two hard work and monotonous. I missed work (I am a part-time Science teacher). I needed something to do to challenge myself and to help me focus on the fact that I am a good mother and I love spending time with my girls, and so the blog was born.
At first it was just about keeping a record of our family life. This was mainly out of guilt for how useless I had been about keeping beautifully recorded memories of my girls' early life in their baby books (http://www.stoppingattwo.co.uk/post/73707130309/the-baby-book-guilt). It was about recording my thoughts on being a mother of two and some anecdotes to be able to share with my children when they were older. I then realised that I loved writing. I started writing about some of the places we visited and the crafts that I would do with Freyja. I wanted to share my experiences with other mothers, and maybe offer some support in what I wrote (http://www.stoppingattwo.co.uk/post/90242135828/things-i-have-learnt-from-being-a-parent-of-two).
I also wanted to write for myself. Without wanting to sound too clichéd, I have had to go through a lot of heartache to get to where I have wanted to be for so long, which is being a mum. I had been widowed aged 30 after I lost my first husband to myocarditis, and the post I am most proud of is about the mix of emotions that I feel on the anniversary of his death now that I am remarried and have my two wonderful daughters (http://www.stoppingattwo.co.uk/post/94793207136/a-day-that-changes-your-life)
In blogging, I have discovered linkys and from this some amazing bloggers – both newbies and "old hands" and they have never failed to inspire me and make me want to get more out of my blog. So I have committed to going to Mumsnet's Blogfest where I hope to learn how I can achieve the most that I can out of my blog and foster these amazing friendships that I have made. If you like what you have read, or even have some constructive feedback for me, you can find my blog athttp://www.stoppingattwo.co.uk or my page on Facebook https://www.facebook.com/stoppingattwo or just say "Hi" to me on Twitter @karenjwhitlock
Please pay Karen and all the lovely linkers below, a visit. Have a great weekend xx
Go Over and Link Your #SoFoLo Twitter Retweet HERE.
Link Your PoCoLo Posts here: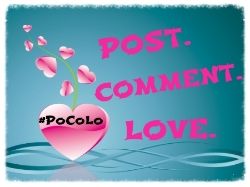 <div align="center"><a href="https://www.vevivos.com/post-comment-love" title="Post Comment Love"><img src=" http://i1322.photobucket.com/albums/u568/ToriWel/4e4a1bf6-07cb-494b-b06e-f959b1fe1311_zps654d027a.jpg" alt="Post Comment Love" style="border:none;" /></a></div>
Copyright protected by Digiprove © 2014-2015 Victoria Welton