Welcome everyone to this weeks Post Comment Love and to…..dun dun daaaahhhh……
My 1,000th Blog Post!!!
Rather fitting that it should be the #PoCoLo link up I think! This post sees my 83rd newbie showcase as well. I was rather pleased to get round all 104 posts who linked up last week – thank you if you did 🙂
This week has been all about the work for me – which I am enjoying getting up to date on before the festive season kicks in. I attended a Hotter Shoes event in Exeter on Tuesday evening and had a wonderful time, catching up with familiar faces and meeting some new ones. Then, on Wednesday, I had it confirmed that Ross, Grace and I will be reviewing Santaland at Wookey Hole (I am trying SO hard not to tell Grace before she gets her special invitation from Santa in the post next week!).
My Big Charity Christmas Giveaway continues and, this weekend, I will be putting up the giveaways to win a signed Rewind Festival programme, a Lava Stone Steak Set worth £62 and a Vac and Steam Cleaner from Bissell worth £150.
This week my blog posts have included a poem about Holidays on Prose for Thought, a review of the LightSleeper and my thoughts on the Bonikka Doll.
This week #SoFoLo is asking you to go and Klout someone!  You get 10 chances to give Klout each day so everyone linking should get a look in – and don't forget to use #SoFoLo when you tweet them so they know where you came from. Pop over and share your profile. Also, don't forget our #SoFoLo community on Google + and our #PoCoLo Facebook group where you can come and post your PoCoLo post for some more shares as well as any of your social media accounts of yours that need more followers.
If you are a regular here then it would be great if you spread the #PoCoLo word. However, if you are new here then welcome! Post Comment Love is all about sharing posts which you have written this week which just haven't got the attention they deserve and, with them all in one place, we can help each other share the comment love. This is one of the easiest links EVER. You don't have a 'special theme' to have to write about, the post can be personal, sponsored, a photo, a review, a competition, your own linky, something you've linked to a linky….WHATEVER you like – it's one you've already written this week! If you want some publicity and attention, then you are in the right place!
Please make sure you go across and comment on at least two other linkers posts. Linkys work if everyone supports each other
 then spread the #PoCoLo about this link up on Twitter. The post you link up has to have been written in the last week. The link will go up every Friday at 6.30am and close on Sunday evening at 8pm. I will make sure I retweet anyone and also try my best to tweet out the posts with the PoCoLo badge being displayed on either the post or the sidebar.
I have a list for the Newbie Showcase running into October 2015. If you would like to be featured then please email me at vickywelton@hotmail.com so I can put you on the rota. Remember, your blog needs to be under a year old to feature from the time of sending your email to me.
This week's newbie showcase is one of the loveliest people. Please meet Shemi Dixon who blogs at Crafts, Names and Things and lives in the rather beautiful state of Colorado in the USA.
Hello, my name is Shemi Dixon. I write a blog called
Crafts, Names and Things ; which is about creating handmade gifts and affordable craft ideas.  The first blog post, I ever wrote was " How To Create a Beautiful Handmade Gift Basket" on November 23, 2013.  My most popular Blog post is "How to make crochet necklaces".
I live close to the beautiful Rocky Mountains in the state of Colorado.
After working years in the medical field, I decided to pursue and sharing my real passion creating beautiful and unique gifts that bring joy to others. I believe everyone possess creativity and I want help others discover that part of themselves.
I can remember as a small girl creating small, handmade gifts for my family and friends.
I loved to see the joy in their faces that only handmade gifts from the heart can bring.
This is the precise reason; I started my blog and you-tube videos to sharing my love of creating affordable, easy, and unique gifts and crafts for others people to enjoy and be inspired by.  There is just something, special about creating a gift with your hands; planning it, composing it, putting your heart into every part of the project. This creative process feeds my soul.
I love the quote by St. Francis of Assisi
"He who works with his hands is a laborer.
He who works with his hands and his head is a craftsman.
He who works with his hands and his head and his heart is an artist."
― St. Francis of Assisi

My tagline is "Crafts, Names and Things, where being crafty isn't just a hobby , it's a way of life"
https://www.youtube.com/channel/UCevxBFazIzvpJK_TmP8Fmmw
https://twitter.com/craftnamesthing
https://www.facebook.com/letshare1
http://www.pinterest.com/letshare2/boards/
https://www.etsy.com/shop/craftsnamesandthings
\
Please pay Shemi and all the lovely linkers below, a visit. Have a great weekend xx
Go Over and Link Your #SoFoLo Klout Profile HERE.
Link Your PoCoLo Posts here: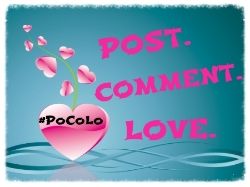 <div align="center"><a href="https://www.vevivos.com/post-comment-love" title="Post Comment Love"><img src=" http://i1322.photobucket.com/albums/u568/ToriWel/4e4a1bf6-07cb-494b-b06e-f959b1fe1311_zps654d027a.jpg" alt="Post Comment Love" style="border:none;" /></a></div>
Copyright protected by Digiprove © 2014 Victoria Welton