Welcome to this week's Post Comment Love. Thank you for paying this linky a visit and thank you also to everyone who linked up last week. I am a bit behind with my commenting and reading I am afraid so many apologies people!
This week I am featuring my own giveaways badge. If you would like to enter any of the Big Charity Christmas Giveaways then click on the badge and it will take you to a page which features them all. I would really appreciate some help for my charity as well. We have already raised over £60 which is great news!
Yesterday I attended the World Travel Market. It was a fabulous event where I got to meet up with some familiar fellow bloggers as well as take part in a Bloggers Speed Networking event. It was such a fabulous idea.
Prose for Thought this week is all about commemorating Remembrance Sunday.
Tomorrow I am looking forward to seeing lots of familiar faces as well as meeting some new ones at BlogFest. Hope to see you there!
I have decided to give #SoFoLo a break this week due to all the busyness going on! But it will be back next week.
If you are a regular here then it would be great if you spread the #PoCoLo word. However, if you are new here then welcome! Post Comment Love is all about sharing posts which you have written this week which just haven't got the attention they deserve and, with them all in one place, we can help each other share the comment love. This is one of the easiest links EVER. You don't have a 'special theme' to have to write about, the post can be personal, sponsored, a photo, a review, a competition, your own linky, something you've linked to a linky….WHATEVER you like – it's one you've already written this week! If you want some publicity and attention, then you are in the right place!
Please make sure you go across and comment on at least two other linkers posts. Linkys work if everyone supports each other
then spread the #PoCoLo about this link up on Twitter. The post you link up has to have been written in the last week. The link will go up every Friday at 6.30am and close on Sunday evening at 8pm. I will make sure I retweet anyone and also try my best to tweet out the posts with the PoCoLo badge being displayed on either the post or the sidebar.
I have a list for the Newbie Showcase running into August 2015. If you would like to be featured then please email me at vickywelton@hotmail.com so I can put you on the rota. Remember, your blog needs to be under a year old to feature from the time of sending your email to me. Apologies to those I have not written back to yet – I haven't forgotten about you!
Please say hello to this week's newbie showcase, Jess, who blogs as Lilypod and Sweetpea.
Hi there! My name's Jess and I'm a 25 year old mummy to Jasper (6 months old), soon to be step mummy to Rhys (18 months old) and fiancé to a rather tattooed man named Pete.
I started writing my blog a year ago as a pregnancy diary; a way to document all of the cravings and mood swings, joys and surprises … leg cramps and labour pains! I'd initially started writing in a notepad but as my phone is permanently glued to my hand – I thought an online diary would be best!
My first post was about finding out that we were pregnant. I wrote it in October but actually backdated it to the date I found out in July! We were living in Dubai back then so made a hasty move back to the UK to start our family! Fast forward one pregnancy and a bouncing baby boy I'm now in the full swing of motherhood. We recently moved from our cosy cottage in Hamble to a barn in the countryside of Alton where I spend my days going for long walks with the bambino and of course – blogging!
Well thank you for having me, it's been a pleasure … now back to nappy changing and bottle making!
Please pay Jess and all the lovely linkers below, a visit. Have a great weekend xx
Link Your PoCoLo Posts here: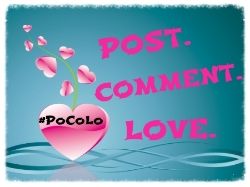 <div align="center"><a href="https://www.vevivos.com/post-comment-love" title="Post Comment Love"><img src=" http://i1322.photobucket.com/albums/u568/ToriWel/4e4a1bf6-07cb-494b-b06e-f959b1fe1311_zps654d027a.jpg" alt="Post Comment Love" style="border:none;" /></a></div>
Copyright protected by Digiprove © 2014-2016 Victoria Welton