Welcome to this week's Prose for Thought and thank you to everyone who linked up last week. I really enjoyed all the stories and poems that joined.
Don't forget that next week is the poetry and prose BritMums round-up so please let me know if you have anything you would especially like to include.
Some of you may be experiencing half term this week and Halloween generally falls in that week for us. So, prior to breaking up, we asked four of Grace's school friends over for a little Halloween get together. We are having the party today as we are off to Surrey this weekend. They will be dressing up, having lots of fun, food and a film! I have to say that I struggled a bit creatively and very nearly used a poem I wrote this time last year. It is called Trick or Treat if you would like to read it. I believe it is better than this years offering but at least I persevered I guess!
Halloween 2014
It's October 31st, year 2014
And you know that this means Halloween
Dressing up as something quite obscene
Or a witch or ghost or something mean
Whether it is a trick or it is a treat
There will be lots of food and lots of sweets
Just be careful how much sugar you eat
Or you will be bouncing right off your seat!
Party games, fun and lots of frights
A pumpkin where inside there shines a light
Things that go bump in the middle of the night
Now that is something I really don't like
A little devil is what she's going to be
Some friends from school, a total of three
I'll hear them shout and giggle with glee
Just so long as it isn't aimed at me!
Victoria Welton 29th October 2014
If you have written a piece of original poetry, prose or fiction and would like to share it, then please link up below. I will try my utmost to read every single linker and share on Twitter, Google + or Facebook (please say in the comments if you have a preference). I would also love it if you share and use the #Prose4T hashtag. Please also use my badge below if you are linking up – it helps to publicise the linky to others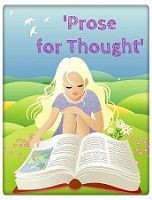 <div align="center"><a href="https://www.vevivos.com/prose-for-thought" title="Prose for Thought"><img src=" http://i1322.photobucket.com/albums/u568/ToriWel/Proseimagesmall_zps637beb08.jpg " alt="Prose for Thought" style="border:none;" /></a></div>
Copyright protected by Digiprove © 2014 Victoria Welton