Welcome to this weeks Post Comment Love. Firstly I have to say…HAPPY BIRTHDAY MUM!
No one has really come forward regarding the badge display, so, I have decided to take matters into my own hands. Each week I shall choose a post from the previous week to display in the top right hand corner. It will be picked at random and I will put the image up from their post so all you will need to do is click on that to take you over. This week it is the turn of another linky which is hosted by Raise Bay. She runs the #KidsintheKitchen and I think it is such a great idea. Please support her if you can.
I managed, once again, to get round every single linker PLUS I tweeted out all the posts displaying the #PoCoLo badge. I always feel a sense of satisfaction once I have done that!
For the last two weeks I have been doing a juice detox and started to increase my exercise again. This means that not only have I lost a lot of weight BUT I am feeling so much more energised, happy and organised! I thoroughly recommend it and, in fact, I wrote a post about it on yesterday's Prose for Thought. On top of that, I have written a post about Christmas, one about my thirties, our Vita Coco Kids Picnic Challenge and details of the SmugMug Event I attended.
Tomorrow Grace and I are off to Taunton for an afternoon of girly shopping and a trip to the cinema whilst Ross is off to gig with his band. I am really looking forward to spending some time with my girl – especially after she has been so poorly this week.
This week's #SoFoLo is to gain some more Pinterest followers, likes, re-pins and comments. So pop over and share your profile. If you find you are already following someone then why not comment, like and/or re-pin one of their posts? Please use the #SoFoLo hashtag when you comment to let them know where you came from. Also, don't forget our #SoFoLo community on Google + and our #PoCoLo Facebook group where you can come and post your PoCoLo post for some more shares as well as any of your social media accounts of yours that need more followers.
If you are a regular here then it would be great if you spread the #PoCoLo word. However, if you are new here then welcome! Post Comment Love is all about sharing posts which you have written this week which just haven't got the attention they deserve and, with them all in one place, we can help each other share the comment love. This is one of the easiest links EVER. You don't have a 'special theme' to have to write about, the post can be personal, sponsored, a photo, a review, a competition, your own linky, something you've linked to a linky….WHATEVER you like – it's one you've already written this week! If you want some publicity and attention, then you are in the right place!
Please make sure you go across and comment on at least two other linkers posts. Linkys work if everyone supports each other 🙂 then spread the #PoCoLo about this link up on Twitter. The post you link up has to have been written in the last week. The link will go up every Friday at 6.30am and close on Sunday evening at 8pm. I will make sure I retweet anyone and also try my best to tweet out the posts with the PoCoLo badge being displayed on either the post or the sidebar.
I have a list for the Newbie Showcase running into August 2015. If you would like to be featured then please email me at vickywelton@hotmail.com so I can put you on the rota. Remember, your blog needs to be under a year old to feature from the time of sending your email to me.
This week's newbie showcase once did this to me on Twitter:
I shall never forget it! This women does some amazing bakes. You need to check out Sarah over at Taming Twins.
Hello! I'm Sarah and I blog at http://www.tamingtwins.com. I write about family life, food and trying to be more than just Mum. There's a lot of cake. I started the blog almost a year ago as a way to perhaps show other people that it is possible to juggle two babies with work and stay sane.
At lot has changed in the last year, my babies are now little people and the things I enjoy writing about have changed a bit too. I share out days out, tips and advice and I've also realised how much I enjoy writing about food and sharing recipes. My love for food photography has grown and I was a finalist in the BiB Awards for Food, which was a real honour. I'm happy that my blog changes and reflects life as it happens, hopefully that keeps it fresh and honest.
The best thing I've found about blogging during the last year is meeting some amazing and totally inspiring people. Bloggers, photographers and writers. It's sparked my creativity to make beautiful things. I love Instagram so much for sharing pretty (and some less pretty!) moments from real life. It's my pocket of inspiration every day.
If I'm not hanging out on Instagram, you'll find me frantically pinning on Pinterest. I've just gone over the 20,000 followers mark there which was totally humbling and felt like a real milestone. It somehow helped to justify the hours I spend drooling at cake photos there!
If you have a moment, or want something to bake this weekend, please pop over to my blog for a look around and if we haven't met on social media, please say hello – I'd love to meet you.
Let's be friends..
Picture this on Instagram
Keep in touch on Facebook
Chit chat on Twitter
Never miss a trick on Bloglovin'
Circle with me on Google+
Pinning like my life depends on it Pinterest

Please pay Sarah and all the lovely linkers below, a visit. Have a great weekend xx
Go Over and Link Your #SoFoLo Pinterest Profile HERE.
Link Your PoCoLo Posts here: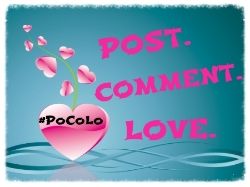 <div align="center"><a href="https://www.vevivos.com/post-comment-love" title="Post Comment Love"><img src=" http://i1322.photobucket.com/albums/u568/ToriWel/4e4a1bf6-07cb-494b-b06e-f959b1fe1311_zps654d027a.jpg" alt="Post Comment Love" style="border:none;" /></a></div>
Copyright protected by Digiprove © 2014 Victoria Welton