Welcome one and all to this week's Post Comment Love. Thank you to everyone who linked up last week. It is great to see the regulars together with lots of new faces (to me) joining in but please don't forget to leave your comments! There were a couple of blogs when I was doing the rounds on Wednesday who only had a comment left by me. Sort of defeats the object of the linky really!
This week has been a difficult one in many ways but I guess we have to have those to appreciate the good 'uns. I wrote a poem for our cat, Muse, on yesterday's Prose for Thought and, other than that, it has been a pretty slow blogging week for me. I have lots of ideas in draft though, so I am hoping they filter out in due course. I feel like I have been slacking a bit.
This week's #SoFoLo is to gain some more Google + followers, +1s, shares and comments. So pop over and share your profile. If you find you are already following someone then why not comment, +1 and/or share one of their posts? Please use the #SoFoLo hashtag when you comment to let them know where you came from. Also, don't forget our #SoFoLo community on Google + and our #PoCoLo Facebook group where you can come and post your PoCoLo post for some more shares as well as any of your social media accounts of yours that need more followers.
If you are a regular here then it would be great if you spread the #PoCoLo word. However, if you are new here then welcome! Post Comment Love is all about sharing posts which you have written this week which just haven't got the attention they deserve and, with them all in one place, we can help each other share the comment love. This is one of the easiest links EVER. You don't have a 'special theme' to have to write about, the post can be personal, sponsored, a photo, a review, a competition, your own linky, something you've linked to a linky….WHATEVER you like – it's one you've already written this week! If you want some publicity and attention, then you are in the right place!
Please make sure you go across and comment on at least two other linkers posts. Linkys work if everyone supports each other 🙂 then spread the #PoCoLo about this link up on Twitter. The post you link up has to have been written in the last week. The link will go up every Friday at 6.30am and close on Sunday evening at 8pm. I will make sure I retweet anyone and also try my best to tweet out the posts with the PoCoLo badge being displayed on either the post or the sidebar.
I have a list for the Newbie Showcase running into August 2015. If you would like to be featured then please email me at vickywelton@hotmail.com so I can put you on the rota. Remember, your blog needs to be under a year old to feature from the time of sending your email to me.
Unfortunately there is no newbie showcase this week as I haven't heard from the person on the rota! So I am giving this section a week off 🙂
Please pay all the lovely linkers below, a visit. Have a great weekend xx
Go Over and Link Your #SoFoLo Google + Profile HERE.
Link Your PoCoLo Posts here: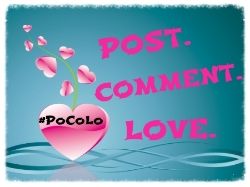 <div align="center"><a href="https://www.vevivos.com/post-comment-love" title="Post Comment Love"><img src=" http://i1322.photobucket.com/albums/u568/ToriWel/4e4a1bf6-07cb-494b-b06e-f959b1fe1311_zps654d027a.jpg" alt="Post Comment Love" style="border:none;" /></a></div>
Copyright protected by Digiprove © 2014 Victoria Welton