Welcome to this week's Prose for Thought. Thank you to everyone who linked up last week and I am so pleased to say that I managed to comment on everyone's post AND tweet them out!
First of all, I need to let you know that Ericka who blogs at Mum in the South has written a brand new book entitled Confessions of a Mother Inferior. She is currently looking for pre-orders, and needs around 80 more in order to get a publishing deal. Please pop over and take a look.
We have had a very difficult week here at the WWW household. Last Saturday afternoon one of our beautiful cats, Muse, died. We are grateful that she didn't suffer and that she lived to a good age. The house hasn't been the same this week without her but she has helped us with other things that have happened since. She has no idea what good she has done since she went.
Our Muse
You knew a life where you were loved
Though it didn't start so well
And now an emptiness is here
With no more tinkling bell
You would be worn just like a scarf
As you lay around his shoulder
For her, each day it meant so much
As with you she got bolder
The endless noise and slight cat fails
It made you more endearing
Oh how we wish that we had known
The end was ever nearing
Your favourite things were catnip
And bothering us during dinner
And as for all the cuddles
They were definitely a winner
So, on that family afternoon
As the sun shone down
You came and said your goodbyes
And in the garden you laid down
You have left such a gap
In our family of five
We wish you hadn't left us
We wish you were alive
Now there is another star
As we look up in the sky
And whilst you look over us
We will have a little cry
But you have done so much good
Yes, you have lit a fuse
Our lives will be much richer
For knowing you, our Muse
Victoria Welton 15th October 2014
If you have written a piece of original poetry, prose or fiction and would like to share it, then please link up below. I will try my utmost to read every single linker and share on Twitter, Google + or Facebook (please say in the comments if you have a preference). I would also love it if you share and use the #Prose4T hashtag. Please also use my badge below if you are linking up – it helps to publicise the linky to others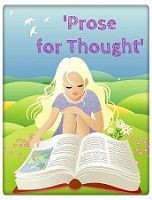 <div align="center"><a href="https://www.vevivos.com/prose-for-thought" title="Prose for Thought"><img src=" http://i1322.photobucket.com/albums/u568/ToriWel/Proseimagesmall_zps637beb08.jpg " alt="Prose for Thought" style="border:none;" /></a></div>
Copyright protected by Digiprove © 2014-2016 Victoria Welton