Welcome one and all to this week's Post Comment Love. I was so pleased to get round to everyone's posts last week and tweet out those who were displaying the PoCoLo badge – either on their post or on their sidebars. If you would like me to share your post on social media, please remember to grab the badge at the bottom of this post.
Talking of badges, I am still happy to carry on with the badge display on the top right hand of this post if anyone is interested in a link back to their blog? It is for any blog of any age. Just send me an email – vickywelton@hotmail.com – and I will happily put you on the rota.
This week has been fairly normal for us (whatever normal is in this house!). I went off to an event in London on Tuesday thanks to the opportunities that Tots100 dish out. This was at the Nikon School where a few bloggers and some magazine types were told all about the great service from SmugMug (post to follow!). We were also given some fantastic tips on photographing children and I was really please at how some of mine came out.
This weekend is a family one for us and then the weekend after I will be at BlogCamp so hope to see at least some of you there.
My posts this week have included Prose for Thought yesterday which was my ditty all about Twitter and a review of the great new service from Cardnest.
This week's #SoFoLo is all about giving each other some Klout. So pop over and share your profile. You get 10 Klouts per day, so don't forget to come back each day and Klout your fellow bloggers! Please use the #SoFoLo hashtag when you tweet to let them know where you came from. Also, don't forget our #SoFoLo community on Google + and our #PoCoLo Facebook group where you can come and post your PoCoLo post for some more shares as well as any of your social media accounts of yours that need more followers.
If you are a regular here then it would be great if you spread the #PoCoLo word. However, if you are new here then welcome! Post Comment Love is all about sharing posts which you have written this week which just haven't got the attention they deserve and, with them all in one place, we can help each other share the comment love. This is one of the easiest links EVER. You don't have a 'special theme' to have to write about, the post can be personal, sponsored, a photo, a review, a competition, your own linky, something you've linked to a linky….WHATEVER you like – it's one you've already written this week! If you want some publicity and attention, then you are in the right place!
Please make sure you go across and comment on at least two other linkers posts. Linkys work if everyone supports each other 🙂 then spread the #PoCoLo about this link up on Twitter. The post you link up has to have been written in the last week. The link will go up every Friday at 6.30am and close on Sunday evening at 8pm. I will make sure I retweet anyone and also tweet out the posts with the PoCoLo badge being displayed on either the post or the sidebar.
I have a list for the Newbie Showcase running into August 2015. If you would like to be featured then please email me at vickywelton@hotmail.com so I can put you on the rota. Remember, your blog needs to be under a year old to feature from the time of sending your email to me.
This week's Newbie Showcase is the lovely Emma from Farmers Wife and Mummy, who writes a really interesting blog about her life on the farm. No days off there!
I started blogging just over a year ago. I am a journalist by trade and, decided I'd like to start writing about our life on the farm rather than writing about other people all the time.
I write about parenting-the highs and the lows. My life's endeavour was to become a mummy again and give Boo a sibling and I am currently 23 weeks pregnant so that is featuring quite a bit on the blog at the moment.
When I tell people we live on a farm, they are usually, genuinely interested in what it's like and what we do. It is a 24-hour, seven days a week, 365-days a year life-yes even Christmas Day and I think it is important to let people know where their food comes from and what farmers (and their wives!!) do every day to help get food on your table.
The great thing about blogging is it evolves with your life so, as Boo prepares for school next year and we hopefully welcome a new edition into our family (#farmbaby2015), the blog may change direction but I will, at heart always be a farmer's wife and mummy.
Please come and have a look at my social media pages-especially if you like photos of bunny babies, chickens and our pet sheep, Minty.
So, whether you want to #PoCoLo, #SoFoLo or both, please pay Emma, and all the lovely linkers below, a visit. Have a great weekend xx
Go Over and Link Your #SoFoLo Klout Profile HERE.
Link Your PoCoLo Posts here: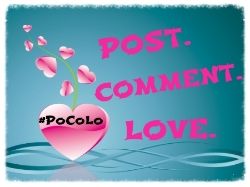 <div align="center"><a href="https://www.vevivos.com/post-comment-love" title="Post Comment Love"><img src=" http://i1322.photobucket.com/albums/u568/ToriWel/4e4a1bf6-07cb-494b-b06e-f959b1fe1311_zps654d027a.jpg" alt="Post Comment Love" style="border:none;" /></a></div>
Copyright protected by Digiprove © 2014 Victoria Welton