That Friday feeling is round with us once more and so is Post Comment Love! This week has meant much catching up for me and thankfully I have almost reached my goal.
Thank you to all of the lovely people who linked up last week – both regulars and new linkers. You all once again provided me with such a wonderful variety of posts to read, they really are enjoyable.
This week I was rather pleased to finally get my new project under way. A brand new travel blog by the name of Victoria Visits… I have put the post in the link below. As well as that Dettol are running a small competition on my blog. It is really easy to enter – all you need to do is take to Twitter with the answer to the question set by them on my blog.
Prose for Thought yesterday was an emotional one for me yesterday for a specific reason and I have also written about the new Dove Legacy campaign about ensuring your daughters think positively of themselves.
This week's #SoFoLo is all about your YouTube Channel to gain some more subscribers. So pop over and share your profile. And if you do subscribe to someone then don't forget to comment on one of their videos using the #SoFoLo hashtag. Also, don't forget our #SoFoLo community on Google + and our #PoCoLo Facebook group where you can come and post your PoCoLo post for some more shares as well as any of your social media accounts of yours that need more followers.
If you are a regular here then it would be great if you spread the #PoCoLo word. However, if you are new here then welcome! Post Comment Love is all about sharing posts which you have written this week which just haven't got the attention they deserve and, with them all in one place, we can help each other share the comment love. This is one of the easiest links EVER. You don't have a 'special theme' to have to write about, the post can be personal, sponsored, a photo, a review, a competition, your own linky, something you've linked to a linky….WHATEVER you like – it's one you've already written this week! If you want some publicity and attention, then you are in the right place!
Please make sure you go across and comment on at least two other linkers posts. Linkys work if everyone supports each other 🙂 then spread the #PoCoLo about this link up on Twitter. The post you link up has to have been written in the last week. The link will go up every Friday at 6.30am and close on Sunday evening at 8pm.
I have a list for the Newbie Showcase running into July 2015. If you would like to be featured then please email me at vickywelton@hotmail.com so I can put you on the rota. Remember, your blog needs to be under a year old to feature from the time of sending your email to me.
This week's newbie showcase is Em from Brummy Mummy of 2. Sometimes a blogger comes up for the showcase and I find it hard to believe they are new and Em is one of those! Grace recently won the Debenhams dream school uniform competition on her blog and her outfit arrived yesterday. She is thrilled! Thank you.
Hello my name is Em. I blog over at
http://www.brummymummyof2.co.uk
. I started blogging at the very end of last year as I went back to work part time with my second and to be honest? I was a little bored and fancied a challenge. On maternity leave I loved reading the blogs of Sprinkle of Glitter and Zoella, as well as watching their vlogs. So I thought I would have a crack at it!
I like to blog about some of the funnier things about motherhood. I also like to record our days out both on the blog and my YouTube channel. I love the idea of my kids looking back when they are older and being able to see what I was like when I was younger. And I know it sounds cheesy but I want them to see that I loved them so very much I wanted to write about them on a nearly daily basis!
My favourite things about blogging are firstly the thrill of people reading it and enjoying it. I am lucky enough to have been featured on sites like Mumsnet, Netmums and Parent Dish, so quite a few non bloggers have read my work and if it makes someone smile, or someone giggle? That's brilliant. Secondly, I also have made a great new group of friends up and down the country, which is utterly priceless. They make me laugh and it's fab to be able to talk to people that understand the weird world of blogging!
My plans for the future are to just kinda carry on as I am really. I host a photo linky on Wednesdays called #wickedwednesdays that I really love doing and although my YouTube channel is not the most popular thing in the world? It makes me really happy I get to talk about tosh and a few people watch it (mainly my Mum).
You can find me here – so come and say "Hello"!
Twitter: @brummymummyof2
So, whether you want to #PoCoLo, #SoFoLo or both, please pay Em, and all the lovely linkers below, a visit. Have a great weekend xx
Go Over and Link Your #SoFoLo YouTube Profile HERE.
Link Your PoCoLo Posts here: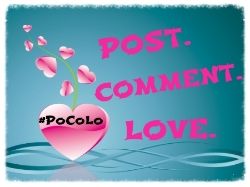 <div align="center"><a href="https://www.vevivos.com/post-comment-love" title="Post Comment Love"><img src=" http://i1322.photobucket.com/albums/u568/ToriWel/4e4a1bf6-07cb-494b-b06e-f959b1fe1311_zps654d027a.jpg" alt="Post Comment Love" style="border:none;" /></a></div>