Welcome to this week's Post Comment Love. Despite a 'swanning around the awards' weekend, I am really pleased to have managed to comment on every single post that linked up last week – and I want to go one step further this weekend and try and tweet you all out too (like the good old days!). As you can see the PoCoLo badge is back in place on the left hand side but if you would like your blog badge featured here then please let me know. No matter what age your blog is. It will be linked back to your blog too.
So, if you are a blogger who has been walking around with their eyes shut or are brand new, you can't fail to have noticed that the MAD Blog Awards took place in London last Friday. You can read all about it on the post I have linked up in PoCoLo. This week on my blog I have also shared my memories of Grace with some lovely photos of her and another poem on this week's Prose for Thought which is all about positivity.
Finally, after what seems like forever, things quieten down for me…for now, anyway…and I can start to work on some other exciting projects which are in the pipeline. I am all a bit behind really but, no matter, I will soon catch up 🙂
This week's #SoFoLo is all about Instagram. So pop over and share your profile. And if you do follow someone then don't forget to comment using the #SoFoLo hashtag. Also, don't forget our #SoFoLo community on Google + and our #PoCoLo Facebook group where you can come and post your PoCoLo post for some more shares as well as any of your social media accounts of yours that need more followers.
If you are a regular here then it would be great if you spread the #PoCoLo word. However, if you are new here then welcome! Post Comment Love is all about sharing posts which you have written this week which just haven't got the attention they deserve and, with them all in one place, we can help each other share the comment love. This is one of the easiest links EVER. You don't have a 'special theme' to have to write about, the post can be personal, sponsored, a photo, a review, a competition, your own linky, something you've linked to a linky….WHATEVER you like – it's one you've already written this week! If you want some publicity and attention, then you are in the right place!
Please make sure you go across and comment on at least two other linkers posts. Linkys work if everyone supports each other 🙂 then spread the #PoCoLo about this link up on Twitter. The post you link up has to have been written in the last week. The link will go up every Friday at 6.30am and close on Sunday evening at 8pm.
I have a list for the Newbie Showcase running into July 2015. If you would like to be featured then please email me at vickywelton@hotmail.com so I can put you on the rota. Remember, your blog needs to be under a year old to feature from the time of sending your email to me.
This week's newbie showcase is Aby from You Baby Me Mummy. I can recall when she first started linking up to PoCoLo and I think she has done a fantastic job with her blog. Please go and say hi.
Hi, I'm Aby, I live with my husband and daughter in Berkshire. I blog over at You Baby Me Mummy, a Parenting and Lifestyle blog. My tag line is 'Stumbling through motherhood on a wing and a prayer', as before Baby came along, I had zero experience with children. So it really has been a voyage of discovery! I started blogging in the middle of August last year, simply to record our memories of our daughter growing up. My first post was a 'Love/Hate' post. I did backdate some of my diary entries and Facebook statuses, as I wanted to show Baby's whole story from the day I found out I was pregnant (so my blog posts/notes go back to August 2012).
I blog about our life as a family, our likes, loves and adventures. If a topic interests me, then I will write about it, but mainly my focus is on our daughter. I really enjoy working with companies and agencies and have been lucky enough to have some great opportunities so far. I enjoy getting stuck into different projects and developing my blog and my blogging skill/experience as much as I can. I only really started promoting my blog around Christmas, when I went self-hosted. I am currently 220 in the Tots100 rankings (I think you'll find she has jumped quite a few more spaces this month – Vic).
My blog is my own little space where I can record our memories, express myself and do something that is for me. I was diagnosed with PND last year and find blogging really helps. It gives me a focus and keeps my mind from turning to mush! I have also met some amazing people through my blog.
Twitter: @youbabymemummy Facebook Instagram Pinterest
So, whether you want to #PoCoLo, #SoFoLo or both, please pay Aby, and all the lovely linkers below, a visit. Have a great weekend xx
Go Over and Link Your #SoFoLo Instagram Profile HERE.
Link Your PoCoLo Posts here: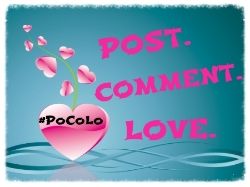 <div align="center"><a href="https://www.vevivos.com/post-comment-love" title="Post Comment Love"><img src=" http://i1322.photobucket.com/albums/u568/ToriWel/4e4a1bf6-07cb-494b-b06e-f959b1fe1311_zps654d027a.jpg" alt="Post Comment Love" style="border:none;" /></a></div>
Copyright protected by Digiprove © 2014 Victoria Welton