Welcome to this week's Post Comment Love! I missed you guys last week. Thank you so much to Rachel from umeandthekids for looking after business for me whilst I was away.
I have to also say a big thank you to Mark Warner. We had the most amazing time in Rhodes and it is a holiday that I will never forget, and I am sure that the bloggers who went won't either. A wonderful adventure. You can read all about it in the post which I have put in the linky below.
I have also celebrated 2 whole years of blogging this week so a massive thank you, not only to everyone who left me such lovely comments on my post, but also to the people who support my linkys and this blog. You are all brilliant!
It is quite a week because tonight is the MAD Blog Awards where I have made it to the finals in the Most Innovative category for the second year running! I wrote a poem about it on Prose for Thought yesterday and, as you lot are so wonderful, I thought I would share with you what I am wearing. Here you go:

The 'About Me' special is still open to join until April 2015 – so if you are new then it is a great place to introduce yourself and it is also a great resource to find out about your fellow bloggers.
We haven't had a Twitter share for a while, so this week is to gain more followers or some retweets. So pop over and share your profile. And if you do follow someone then don't forget to comment using the #SoFoLo hashtag. Also, don't forget our #SoFoLo community on Google + and our #PoCoLo Facebook group where you can come and post your PoCoLo post for some more shares as well as any of your social media accounts of yours that need more followers.
If you are a regular here then it would be great if you spread the #PoCoLo word. However, if you are new here then welcome! Post Comment Love is all about sharing posts which you have written this week which just haven't got the attention they deserve and, with them all in one place, we can help each other share the comment love. This is one of the easiest links EVER. You don't have a 'special theme' to have to write about, the post can be personal, sponsored, a photo, a review, a competition, your own linky, something you've linked to a linky….WHATEVER you like – it's one you've already written this week! If you want some publicity and attention, then you are in the right place!
Please make sure you go across and comment on at least two other linkers posts. Linkys work if everyone supports each other 🙂 then spread the #PoCoLo about this link up on Twitter. The post you link up has to have been written in the last week. The link will go up every Friday at 6.30am and close on Sunday evening at 8pm.
I have a list for the Newbie Showcase running into July 2015. If you would like to be featured then please email me at vickywelton@hotmail.com so I can put you on the rota. Remember, your blog needs to be under a year old to feature from the time of sending your email to me.
This week's original newbie showcase hasn't blogged for a while so she decided to withdraw. Instead I have chosen a newer blogger at random who has recently communicated with me, asking me for some advice. She doesn't know – until the big tweet out this morning! Meet Becci from Swords and Noodles.
Becci is an aspiring blogger who writes at Swords and Snoodles is a wife as well as Mum to two young boys who she writes about on her blog. She has been blogging less than four months to date and I understand that it has already become a great passion of hers.
She has shared posts feeding and encouraging her children, how to be a great wife, toddler tantrums (I think all Mum's have been there!) and her own feelings. There is also a great post detailing 24 Boredom Busters for Pre-Schoolers.
I think my favourite post of hers is entitled 'My kids offend me!'. A lovely read.
All the best with your blog, Becci.
You can also find Swords and Snoodles on Twitter and Facebook.
So, whether you want to #PoCoLo, #SoFoLo or both, please pay Becci, and all the lovely linkers below, a visit. Have a great weekend xx
Go Over and Link Your #SoFoLo Twitter Profile HERE.
Link Your PoCoLo Posts here: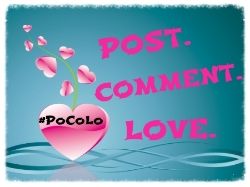 <div align="center"><a href="https://www.vevivos.com/post-comment-love" title="Post Comment Love"><img src=" http://i1322.photobucket.com/albums/u568/ToriWel/4e4a1bf6-07cb-494b-b06e-f959b1fe1311_zps654d027a.jpg" alt="Post Comment Love" style="border:none;" /></a></div>
Copyright protected by Digiprove © 2014-2016 Victoria Welton