Welcome to this week's Prose for Thought and a massive thank you to all of those who linked up for the first week back after the August break. I have to admit I was a bit worried you might have all forgotten about me!
Firstly I must mention the new linky that is there for all your writing which started on Tuesday run by Maddie from Writing Bubble and Chrissie from Muddled Manuscript called What I'm Writing. You can find the details here.
This week I am away in Rhodes with Mark Warner with 9 other bloggers who won a trip to the Levante 5 star resort. I wanted to write a rhythmical poem that captures the in and out of the tide of the sea as it laps at the shore. As you can see it is dedicated to Grace. On Monday morning as we drove to school she told me that the nerves were welling up and were getting the better of her. She also said that she was angry with the holiday people for letting me win and taking away her Mum! She will be fine with Ross but that doesn't mean I won't feel the guilt that every single other Mum feels when they leave their children. The words just sort of came as I repeated the rhythm in my head so I hope it works!
Away.
Away….away…
What do I see?
I see your face in front of me
I'm here…I'm here…
But oh so far
You are with me, wherever you are
At peace…at peace…
With the setting of the sun
I think of you and you are the one
A hug…a kiss…
These come naturally
I find it hard to believe you're part of me
The one…the one…
I've been waiting for
That doesn't mean I don't strive for more
You ask…you wonder
Why go away?
Cuddle, reassure, only a short stay
Now sleep…now sleep,
Sleep tight in your bed
As sugar plum fairies dance round in your head
Sweet dreams…sweet dreams
Until Sunday it comes
And you will be back in the arms of your Mum
Victoria Welton 8th September 2014
If you have written a piece of original poetry, prose or fiction and would like to share it, then please link up below. I will try my utmost to read every single linker and share on Twitter, Google + or Facebook (please say in the comments if you have a preference). I would also love it if you share and use the #Prose4T hashtag. Please also use my badge below if you are linking up – it helps to publicise the linky to others 🙂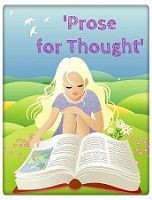 <div align="center"><a href="https://www.vevivos.com/prose-for-thought" title="Prose for Thought"><img src=" http://i1322.photobucket.com/albums/u568/ToriWel/Proseimagesmall_zps637beb08.jpg " alt="Prose for Thought" style="border:none;" /></a></div>
Copyright protected by Digiprove © 2014-2016 Victoria Welton