Well, well, well, what a summer that was! Welcome back to the home of Post Comment Love and I have to say a massive thanks to Charlotte, Claire, Candace and Steph for looking after the linky so ably for me while I had a break and thank you to everyone who supported them too 🙂
We have had a really busy break and if you would like to read about just some of what we got up to then I have posted about it in 'I Know What We Did Last Summer'. We also did a food tour and went to the Rewind Festival (yes, Rick Astley is lovely in real life!) and I have a serious of interviews coming up on my blog next week whilst I am away in Rhodes with Mark Warner. You might recall I was one of the lucky 10 bloggers who won the trip that they were advertising at BritMums Live. I am really looking forward to it! It is going to be amazing fun.
I'm not the only winner! Grace has got a runner up place this week with Tiger Sheds for designing her own dream house and then, yesterday, we found out that she had won the #DebsDreamUniform competition with her blog post over on kidGLloves to design her own school uniform.
So, let's get this party started, shall we?
The 'About Me' special is still open to join until April 2015 – so if you are new then it is a great place to introduce yourself and it is also a great resource to find out about your fellow bloggers.
I've noticed quite a few new Facebook pages popping up, so this week #SoFoLo is to give each other some 'likes'. Or if you already like their page, then why not share some of it's content? So pop over and share your profile. And if you do like someone's page then don't forget to comment using the #SoFoLo hashtag. Also, don't forget our #SoFoLo community on Google + and our #PoCoLo Facebook group where you can come and post your PoCoLo post for some more shares as well as any of your social media accounts of yours that need more followers.
If you are a regular here then it would be great if you spread the #PoCoLo word. However, if you are new here then welcome! Post Comment Love is all about sharing posts which you have written this week which just haven't got the attention they deserve and, with them all in one place, we can help each other share the comment love. This is one of the easiest links EVER. You don't have a 'special theme' to have to write about, the post can be personal, sponsored, a photo, a review, a competition, your own linky, something you've linked to a linky….WHATEVER you like – it's one you've already written this week! If you want some publicity and attention, then you are in the right place!
Please make sure you go across and comment on at least two other linkers posts. Linkys work if everyone supports each other 🙂 then spread the #PoCoLo about this link up on Twitter. The post you link up has to have been written in the last week. The link will go up every Friday at 6.30am and close on Sunday evening at 8pm.
I have a list for the Newbie Showcase running into June 2015. If you would like to be featured then please email me at vickywelton@hotmail.com so I can put you on the rota. Remember, your blog needs to be under a year old to feature from the time of sending your email to me.
I am very pleased to feature Evette from Bizzimummy as this weeks #newbieshowcase. Please make her feel welcome:
Go Over and Link Your #SoFoLo Facebook Profile HERE.
Link Your PoCoLo Posts here: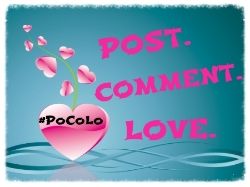 <div align="center"><a href="https://www.vevivos.com/post-comment-love" title="Post Comment Love"><img src=" http://i1322.photobucket.com/albums/u568/ToriWel/4e4a1bf6-07cb-494b-b06e-f959b1fe1311_zps654d027a.jpg" alt="Post Comment Love" style="border:none;" /></a></div>
Copyright protected by Digiprove © 2014 Victoria Welton