Hello everyone! Prose for Thought is back! How was your summer? Did you have a good one? I truly did and now I am back and raring to go. I spent lots of lovely time with Ross, Grace and our families. We visited my Mum and Stepdad quite a few times (some of which were for stopovers but it still meant I got to see her) and we went to Center Parcs to celebrate Ross' parents 40th Wedding Anniversary.
Over on BritMums you will find my Poetry and Prose Round-Up for this month. Despite it being a pretty quiet month for blogging (well, it was for me!) it didn't stop the creativity shining through.
This week I have written a poem about that 'Sunday night feeling', you know, the one you get when you know you have to go to school the next day. Thankfully, after all these years, I have pretty much grown out of it but for a long time I still got it when I knew I had to get up for work. I then got to thinking and I wondered whether Grace feels like I used to? I am certain she and many other children did yesterday when she went back to school. These are my feelings in poetry form.
Sunday Night Feeling
Here it is, it's that feeling,
I know so terribly well
Rising up from the pit of my stomach,
I feel it starting to swell
The nausea washes over me
I try to suppress it, I do
And I wonder if any one out there
Is having these feelings too
I wonder if I have it all ready
Is my homework all done
I can't sleep, the clock, it is ticking
I am certain it's way after 1
Winding myself up in knots
My brain it just won't stop turning
Thinking up all kinds of things
Meanwhile, my stomach's still churning
Sunday night, why must you
Come around like the speed of light
I want the weekend to stay a bit longer
I need my Mum to hold me real tight
I try to remember it's not long
'Til Friday rolls round once again
But this won't stop those nerves
The ones I am trying to tame
Victoria Welton 2nd September 2014
If you have written a piece of original poetry, prose or fiction and would like to share it, then please link up below. I will try my utmost to read every single linker and share on Twitter, Google + or Facebook (please say in the comments if you have a preference). I would also love it if you share and use the #Prose4T hashtag. Please also use my badge below if you are linking up – it helps to publicise the linky to others 🙂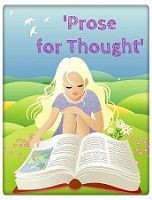 <div align="center"><a href="https://www.vevivos.com/prose-for-thought" title="Prose for Thought"><img src=" http://i1322.photobucket.com/albums/u568/ToriWel/Proseimagesmall_zps637beb08.jpg " alt="Prose for Thought" style="border:none;" /></a></div>
Copyright protected by Digiprove © 2014 Victoria Welton