This month I am taking part in the #NewThings challenge with the CSMA club. Once a week, for the next four weeks, we will be given a task to complete as a family to try something new. The first challenge is to visit a new place.
When Grace got a really good school report back at the end of last term, we knew that we wanted to take her somewhere educational and interesting this summer. She takes a keen interest in fossils and nature so we knew she was exactly the right age now to visit the Natural History Museum. We planned this for 28th August, toward the end of the summer holidays which would coincide with a trip to see Phantom of the Opera for Ross' birthday.
Grace has never been to the Natural History Museum and nor have I, despite the fact that this is my favourite building in forever. Ross went once, a long time ago, when he was 8 years old. So, we were really excited to arrive via South Kensington tube (a very convenient stop that takes you almost to the door). With us were my Mum and Step-Dad and my niece, Emily. Grace was thrilled to have her cousin along and they had a wonderful time together (I could tell by all the giggling!).
We only had to queue for around 20 minutes before we got in – not as bad as I thought it would be! I have to admit that I always dreamed that I would go in the main entrance but the side was almost as impressive. At first section we visited started off with looking at the rocks and minerals at the bottom of some escalators which lead into a model of planet Earth (a bit disappointed that the escalators weren't working). Grace was in her element (if you would pardon the pun!) and absolutely loved the whole section.
Grace and Emily were fascinated by the Earth's Treasury which housed rubies, diamonds and other precious stones. Emily knew her birth stone was emerald but Grace was really pleased to find out hers, which is Garnet (she remembers it by reminding herself that it rhymes with darn it!).
We then experienced the volcanoes and earthquakes section and stood on a large moving floor which was made out to be a Japanese supermarket to feel what being involved in an earthquake might feel like.
After a break for a sandwich and a drink (Top Tip: DO NOT forget to take sandwiches and drinks in with you. £4.45 for one sandwich and £1.95 for one can of coke is an absolute rip-off!!), we looked around the rest of the Earth section but moving toward the Dinosaur exhibit.
We had booked tickets online to see the Dinosaurs (Top Tip: go on the Natural History website to book tickets for free at a time that will suit you) and boy are we glad we did – the queue was huge! We walked straight in to find a Triceratops and other ancient beasties staring back at us. We were taken across a walkway getting ever closer to our encounter with the T-Rex. On our way there were many fascinating skeletons of different-sized dinosaurs.
The T-Rex was a bit of a disappointment. We learned many fascinating facts, including that if a T-Rex falls over then it will die as it can't get up again and that they weigh the equivalent of 200 10 year old children. When we reached the fierce giant though, he wasn't working. I was building myself up for a bit of a scare but..nothing! The rest of the exhibition was fascinating though and, together with Earth's Treasury and the Mammals section, this was my favourite part.
We moved onto the Human Biology section. I have to admit to being a little concerned that Grace was going to start asking lots of questions but, thankfully, no. She was fascinated and a little perplexed by the giant baby which was enclosed in an area designed to mimic a mother's heartbeat and stood laughing at the bottoms with her cousin! (Note Ross' expression!).
We then paid a visit to the Mammals. Grace was keen to see some of the big cats and didn't want to leave the Jaguar when she came across it. I couldn't wait to see the Blue Whale – and it didn't disappoint. Amazing! Along with the dolphins, elephants and all the fascinating facts.
All too soon our visit was coming to an end but we couldn't leave without a visit to the shop and a proper look at the Central Hall which housed the Diplodocus.
I would have been happy just spending all day in that Hall. It was stunning. Unfortunately we did not have time to go up on the bridge but this gives me something to look forward to when we visit next time – and at least we got to leave via the front door!
Disclaimer: This is our entry for week one into the CSMA Club #NewThings Challenge
I have also linked up to this week's #MagicMoments with Jaime over on The Olivers Madhouse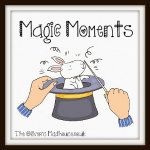 Copyright protected by Digiprove © 2014 Victoria Welton