Welcome to the first of August and this week's Post Comment Love! This week's featured badge belongs to Susan from Happy Healthy Mumma. Please click on the badge to pop over and take a browse round her blog.
I don't know about you lot, but I am absolutely ruddy knackered! I am SO looking forward to having a bit of a break over the next couple of weeks. I pretty much need it now.
That doesn't mean that I am going to disappear off the face of the earth though! Tomorrow I am back on the set of Trollied, I will be taking over the Tots Instagram next Wednesday as Ross and I do a food tour of the East End of London (watch and drool!), then we are off to Center Parcs and then, we are back in the press tent of the Rewind Festival (hob-nobbing with celebrities such as Rick Astley and Jason Donovan).
In the meantime, Grace has made the final of a holiday competition with Canvas Holidays and she would LOVE your vote please to help us win a trip to Disneyland Paris. It is a really easy to enter one too. All you need to do is click across to this page http://blog.canvasholidays.co.uk/2014/07/28/dreaming-of-disneyland-this-could-be-your-chance/ then click on the sign saying VOTE NOW. This will take you to the competition page, full of children dressed as their favourite characters. Grace is dress as Jasmine from Aladdin, in pink and gold holding Aladdin's lamp. It is Christmas Day morning hence the rather tousled hair as she had just got out of bed to open the first of her presents! Click vote under her photo and you are done!
The post I have shared this week is a review of some beautiful jewellery from Martha Jackson who have kindly offered 15% to all my readers until the end of August. I can't recommend them highly enough.
As a reminder, over the next 4 Fridays, I have four lovely blogger hosts looking after PoCoLo (girls, I will send you the info today). The rota is as follows:
A big thank you in advance to all four of them for taking care of business for me. #SoFoLo won't run during this time and will return on 5th September BUT the newbie showcasers will be featured so please be sure to support them.
The 'About Me' special is still open to join until April 2015 – so if you are new then it is a great place to introduce yourself and it is also a great resource to find out about your fellow bloggers.
This week #SoFoLo is to give each other some Klout. So pop over and share your profile. You can give 10 lots of Klout a day so please give generously. And if you decide to tweet people to let them know, don't forget the #SoFoLo hashtag. Also, don't forget our #SoFoLo community on Google + and our #PoCoLo Facebook group where you can come and post your PoCoLo post for some more shares as well as any of your social media accounts of yours that need more followers.
If you are a regular here then it would be great if you spread the #PoCoLo word. However, if you are new here then welcome! Post Comment Love is all about sharing posts which you have written this week which just haven't got the attention they deserve and, with them all in one place, we can help each other share the comment love. This is one of the easiest links EVER. You don't have a 'special theme' to have to write about, the post can be personal, sponsored, a photo, a review, a competition, your own linky, something you've linked to a linky….WHATEVER you like – it's one you've already written this week! If you want some publicity and attention, then you are in the right place!
Please make sure you go across and comment on at least two other linkers posts. Linkys work if everyone supports each other 🙂 then spread the #PoCoLo about this link up on Twitter. The post you link up has to have been written in the last week. The link will go up every Friday at 6.30am and close on Sunday evening at 8pm.
I have a list for the Newbie Showcase running into June 2015. If you would like to be featured then please email me at vickywelton@hotmail.com so I can put you on the rota. Remember, your blog needs to be under a year old to feature from the time of sending your email to me.
This week's newbie showcase belongs to the very lovely All About A Mummy, a regular linker to PoCoLo and always a pleasure to interact with.
Hello from All about a Mummy! I am a 30 something married mum to two girls; Little E (3 going on 13) and Little I (a newbie at just 5 months).
I started blogging October last year to keep myself sane during a particularly stressful pregnancy. On the blog you will find my pregnancy diary which charts an exhausting battle to get an elective C section on the NHS.
Now she is here I still blog to stay sane! I write about juggling the baby with the demands of the threenager whilst trying to find a bit of time for me, Husband and hobbies. Blog posts are varied but regular features include a baby diary, monthly Little E update, book recommendations (I'm an avid reader) and product reviews.
We are craft and baking obsessed so you'll find lots of posts featuring glue sticks or cupcake cases. Most of the time they are child friendly but now and again I share the odd grown up project I have squeezed in whilst Peppa Pig is providing the entertainment.
Most of my posts feature snaps from my phone taken one handed, lens smeared with suncream/icing sugar/paint but I'm am fumbling my way through learning about my DSLR so I hope you enjoy my 'decent' photo led posts which appear weekly and are usually black and white.
Please pop across and take a peep at the blog and I look forward to saying hello on Twitter
@mummy_blog
So, whether you want to #PoCoLo, #SoFoLo or both, please pay Laura and Tia, and all the lovely linkers below, a visit. Have a great weekend xx
Go Over and Link Your #SoFoLo Klout Profile HERE.
Link Your PoCoLo Posts here: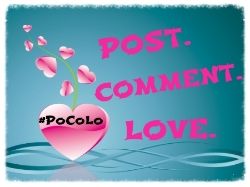 <div align="center"><a href="https://www.vevivos.com/post-comment-love" title="Post Comment Love"><img src=" http://i1322.photobucket.com/albums/u568/ToriWel/4e4a1bf6-07cb-494b-b06e-f959b1fe1311_zps654d027a.jpg" alt="Post Comment Love" style="border:none;" /></a></div>
Copyright protected by Digiprove © 2014 Victoria Welton