So, welcome to the first Friday of the summer holidays and this week's Post Comment Love 🙂 Yay!! It couldn't come sooner in our house – poor Grace was absolutely knackered and so were the rest of us.
This week's badge feature belongs to Tarana from Sand in my Toes – one of PoCoLo's longest standing and regular linkers. Please click on her badge to pop over and pay her a visit.
Grace is off to her father's today and isn't back until Tuesday. I know that I am going to miss her like crazy but it was lovely to spend some time with her yesterday and see her face looking so happy about the fact that she is off to Hayling Island to have some fun. As I said to her, nothing makes me happier than to see her happy.
What I am REALLY looking forward to this evening is the fact that Ross and I are off to The Casterbridge in Dorchester with Ross' parents where the 2009 Masterchef winner, Mat Follas, will be cooking for us. We are having the 5 course taster menu and I can't ruddy wait!! Then, on Sunday, one of Ross' oldest friends is coming down from Yorkshire to spend some time with us.
This week on my blog you will find details of a great new healthy eating plan we are trying, a review of a very healthy cooking pot and, of course, yesterday's Prose for Thought which will be taking a break in August, so next week will be the last one until 4th September.
I will also be taking a break from PoCoLo. Next week will be here, in it's usual place and then, after that, the following bloggers will be hosting in my place:
A big thank you in advance to all four of them for taking care of business for me. #SoFoLo won't run during this time and will return on 5th September BUT the newbie showcasers will be featured so please be sure to support them.
The 'About Me' special is still open to join until April 2015 – so if you are new then it is a great place to introduce yourself and it is also a great resource to find out about your fellow bloggers.
This week #SoFoLo is for your Pinterest account. So pop over and share your profile. If you find yourself already following someone, then why not 'repin' something and like something of theirs and spread the love? Also, don't forget our #SoFoLo community on Google + and our #PoCoLo Facebook group where you can come and post your PoCoLo post for some more shares as well as any of your social media accounts of yours that need more followers.
I managed to share all the posts on the slow PoCoLo last week and this week I shall be doing my best to get round to everyone! I have not read enough blogs lately. I shall be sharing on Google + if your user name is obvious, if not then it will be good old twitter!
If you are a regular here then it would be great if you spread the #PoCoLo word. However, if you are new here then welcome! Post Comment Love is all about sharing posts which you have written this week which just haven't got the attention they deserve and, with them all in one place, we can help each other share the comment love. This is one of the easiest links EVER. You don't have a 'special theme' to have to write about, the post can be personal, sponsored, a photo, a review, a competition, your own linky, something you've linked to a linky….WHATEVER you like – it's one you've already written this week! If you want some publicity and attention, then you are in the right place!
Please make sure you go across and comment on at least two other linkers posts. Linkys work if everyone supports each other 🙂 then spread the #PoCoLo about this link up on Twitter. The post you link up has to have been written in the last week. The link will go up every Friday at 6.30am and close on Sunday evening at 8pm.
I have a list for the Newbie Showcase running into June 2015. If you would like to be featured then please email me at vickywelton@hotmail.com so I can put you on the rota. Remember, your blog needs to be under a year old to feature from the time of sending your email to me.
So, now the housekeeping is all out of the way, this week's newbie showcase is one of our youngest linkers whom I had the pleasure to meet at BritMums Live. She is also known as Afra's (Mad Mum of 7) FDIL. Say hi to Kat.
Hello everyone, I'm Kat from GingerSnapBlog, where I document my life as I attempt to survive the madness that is University. There is little that can fully prepare a person for leaving home for the first time, living on your own with strangers and making sure that you don't get in the shower to find that the shampoos run out.
For me, University's been incredibly up and down and I know that although this isn't the case for everyone, I'd like to think that my blog can become a small oasis for those going through the same things, or those who just wonder what student life is actually like. That, my life and a couple of recipes thrown in along the way for good measure – because who doesn't love the chance to cook good food that is easy and doesn't break the bank.
So that's me, blogging my way through life as I know it, attempting to make it out to graduation without losing my mind in the process.
Drop on by my blog or just say hello by tweeting me at @drurykat.
So, whether you want to #PoCoLo, #SoFoLo or both, please pay Kat, and all the lovely linkers below, a visit. Have a great weekend xx
Go Over and Link Your #SoFoLo Pinterest Profile HERE.
Link Your PoCoLo Posts here: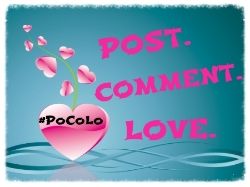 <div align="center"><a href="https://www.vevivos.com/post-comment-love" title="Post Comment Love"><img src=" http://i1322.photobucket.com/albums/u568/ToriWel/4e4a1bf6-07cb-494b-b06e-f959b1fe1311_zps654d027a.jpg" alt="Post Comment Love" style="border:none;" /></a></div>
Copyright protected by Digiprove © 2014 Victoria Welton