Welcome to this week's 'slow' version of Post Comment Love. The link is coming to you just a little differently this week!
I don't know about you but I am a bit knackered. I don't know if it is because it is the end of term, the heat, the fact that I am doing a juice cleanse but…for some reason…I've lost a bit of my blogging mojo. Which very rarely, if ever, happens to me.
Last weekend I completed the 5k Race for Life in Taunton in under an hour – thank you to everyone who sponsored me. I travelled to Leicester from Somerset yesterday to return my instructor car (looooonnnggg story) and then had to make my way back by train which took me via London – and 10 hours worth of travelling.
So, when the newbie showcase didn't get back to me this week, I thought it would be the perfect opportunity to slow things down a bit. I haven't got round to sharing last weekend's PoCoLo or really commenting to either – so I can do that this weekend.
In the meantime, I thought I would do Post Comment Love a bit differently this week – in a sort of #PoCoLo meets #SoFoLo kind of way!
If you would like a particular post – any post, be it old or new – shared, retweeted, liked or pinned then just put the link to the URL below.
When you put in the title to the post, just enter Tweet, Google +, Facebook, Pinterest….or whichever social media channel you would like it shared on – and don't forget to include the owner of the link in your share!
In the same way as PoCoLo works, it would be lovely if you would share the one before yours, and the one after. I've started things off to make it a little bit easier.
I hope that all makes sense but please tweet me if you don't get it!
Have a great weekend of sharing everyone and Post Comment Love, Newbie Showcase and SoFoLo will resume normal service next Friday 🙂 xxx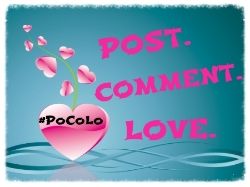 <div align="center"><a href="https://www.vevivos.com/post-comment-love" title="Post Comment Love"><img src=" http://i1322.photobucket.com/albums/u568/ToriWel/4e4a1bf6-07cb-494b-b06e-f959b1fe1311_zps654d027a.jpg" alt="Post Comment Love" style="border:none;" /></a></div>
Copyright protected by Digiprove © 2014 Victoria Welton