Welcome everyone to this week's Prose for Thought and thank you to everyone who linked up last week. It was wonderful to see some new contributors and their poems.
Yesterday, I started a 5 day juice detox. To be honest, I am totally fed up with following diets. All I want to do is be healthy and make sure that I am putting the right food into my body (with the occasional treat!) so I have decided to hit the reset button. It isn't easy by any means. I started feeling really hungry around 4pm (the time of day I always do) and rather fancied a cup of tea – although I am rather pleased that I haven't been desperate for coffee as I have been weaning myself off the stuff over the last week in readiness! I must have drunk around 7 pints of water too – thankfully my office is right next to the bathroom.
When I finish on Sunday, I am ready to start a whole new meal planning service (details to follow together with a 30% discount code for my readers) to ensure that we all eat better. Plus, I have signed up to Graze boxes which I am really looking forward to.
Now you know what inspired today's poem!
A Clearer, Brighter, New Me
Refresh, renew, a whole new you
Is what I've promised me
Far less junk, smaller portions
Let's all eat healthily
I want my body to feel better
To step out of it's tired frame
But if I carry on doing nothing
Each day will stay the same
I want this juicing to give me plenty
Health, vitality, better skin
Because if I continue in this vein
My body may just give in
And what about my mind and thinking
I want it so much clearer
Each day that this cleanse is done
I feel it getting nearer
So, it is only 5 days I tell myself
It's worth all the lethargy
Because when it is all over and done
There'll be a clearer, brighter, new me!
Victoria Welton 16th July 2014
If you have your own poem or piece of prose to share then grab my badge code and click the link below to enter your post. If you share a link back to my page in your post then you will be guaranteed some free publicity from me on either Twitter or Google +. Don't forget to use #Prose4T when tweeting your post. Check out the Prose for Thought page for full details.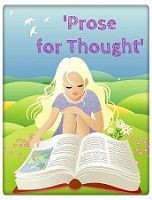 <div align="center"><a href="https://www.vevivos.com/prose-for-thought" title="Prose for Thought"><img src=" http://i1322.photobucket.com/albums/u568/ToriWel/Proseimagesmall_zps637beb08.jpg " alt="Prose for Thought" style="border:none;" /></a></div>
Copyright protected by Digiprove © 2014 Victoria Welton