Iiiiittts Post Comment Love time..again! I swear I feel like I only wrote last weeks post yesterday! I have no one on the badge rota at the moment so if you would like your blog badge displayed – no matter how young or old your blog is – then do please get in touch via email: vickywelton@hotmail.com.
I have a really busy weekend coming up. Tomorrow I am off to Surrey to do the 'secret thing' for the MAD Blog Awards (I know, intriguing, huh?!) and then on Sunday I am mainly walking 5k in the Race for Life in Taunton in aid of Cancer Relief UK. I have been up at 6.30am this week on our new treadmill to get ready for Sunday. As I type this I still have 40% of my target to raise. That is £60. If everyone who links up donated 50p then I would pretty much be there! Here is the link if you would like to help – https://www.justgiving.com/victoriawelton/
As many of you know, little George lost his fight for life last Saturday night. Oana from Mamas Haven has been amazingly brave and has written such wonderful posts about it all. I wrote a poem on Prose for Thought yesterday. I am pleased to say that the bloggers who are in our PoCoLo Facebook group have raised £100 and we have some special gifts winging their way to Oana with the balance of the money being sent to the Hospice where Georgie spent his final days.
I must also say a big thank you to John Adams who blogs at Dad Blog UK. Yesterday he was featured on the Cision blog and was asked to give his favourite blog and why. John listed 3. One Dad 3 Girls, Dads the Way I Like it…and me! I was so chuffed 🙂
This week #SoFoLo is a little bit different. It is a mash-up. Basically, you can link whichever social media platform you would like more followers on, be it Facebook, Twitter, Pinterest, Google +. Whatever you like. Just link your profile. Pop over and share here. Also, don't forget our #SoFoLo community on Google + and our #PoCoLo Facebook group where you can come and post your PoCoLo post for some more shares as well as any of your social media accounts of yours that need more followers.
The 'About Me' special is still open to join until April 2015 – so if you are new then it is a great place to introduce yourself and it is also a great resource to find out about your fellow bloggers.
Last week I commented on links 41 to 60 and still need to share everyone's posts. I am really pleased with the way the commenting is working now for me when there are so many (especially as my family were getting a teeny bit miffed with me spending the whole weekend commenting!). So this week I shall read from number 61 to 80. Instead of sharing on Twitter, I shall share the majority on Google + as this is better for everyone's stats – it helps if your Google + user name is obvious on your blog as then I can include you in the share.
If you are a regular here then it would be great if you spread the #PoCoLo word. However, if you are new here then welcome! Post Comment Love is all about sharing posts which you have written this week which just haven't got the attention they deserve and, with them all in one place, we can help each other share the comment love. This is one of the easiest links EVER. You don't have a 'special theme' to have to write about, the post can be personal, sponsored, a photo, a review, a competition, your own linky, something you've linked to a linky….WHATEVER you like – it's one you've already written this week! If you want some publicity and attention, then you are in the right place!
Please make sure you go across and comment on at least two other linkers posts. Linkys work if everyone supports each other 🙂 then spread the #PoCoLo about this link up on Twitter. The post you link up has to have been written in the last week. The link will go up every Friday at 6.30am and close on Sunday evening at 8pm.
I have a list for the Newbie Showcase running into June 2015. If you would like to be featured then please email me at vickywelton@hotmail.com so I can put you on the rota. Remember, your blog needs to be under a year old to feature from the time of sending your email to me.
This week's newbie showcase is the wonderful Little Button Diaries, a beautiful craft blog that I nominated for the MAD Blog Awards. I was so pleased to see these ladies make the final.
We are Laura and Tia, and we share a love for all things creative. We write Little Button Diaries, a crafting and baking blog. In the last couple of years we have both given birth to little girls – Harper, Amelie and Lilah – and we wanted to start a blog to document all the things we get up to together.
We're very lucky that we only live round the corner from one another and have, well, pretty much everything in common. If we're not chatting away about our blog (which we can be found doing 89% of the time) we love to find new things to bake, projects to make and photographs to take. We try to fill our blog with tales of crafting, baking, and exploring our seaside city, which is how we love to spend our days. It's not easy finding the time to make stuff with little ones running around your feet, but we want to show that having a baby doesn't mean you have to stop doing the things you love, and that a lot can be achieved even in the space of a short nap!
We're not saying we are craft wizards, more 'find a fault, make a feature' kinda girls. We're just doing the things we love because we love doing them and hope you will too!
Come say hi to us on Twitter, Facebook, Google+, Pinterest and Instagram
So, whether you want to #PoCoLo, #SoFoLo or both, please pay Laura and Tia, and all the lovely linkers below, a visit. Have a great weekend xx
Go Over and Link Your #SoFoLo Mash-up Profile HERE.
Link Your PoCoLo Posts here: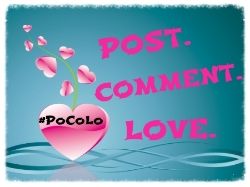 <div align="center"><a href="https://www.vevivos.com/post-comment-love" title="Post Comment Love"><img src=" http://i1322.photobucket.com/albums/u568/ToriWel/4e4a1bf6-07cb-494b-b06e-f959b1fe1311_zps654d027a.jpg" alt="Post Comment Love" style="border:none;" /></a></div>
Copyright protected by Digiprove © 2014-2016 Victoria Welton