It's the beginning of July, it's Friday, it's almost the summer holidays and it's Post Comment Love time again! Welcome back 🙂
Firstly, I need to bring everyone's attention to a fellow bloggers devastating situation. Oana who blogs at Mamas Haven is losing her baby, George. He is dying from acute megakaryoblastic leukemia, a subtype of acute myeloid leukemia. She would like help to preserve his memory and so, I have started a special hashtag link on Instagram, #deargeorgie. Please find more details in my post which is on the first link of PoCoLo.
This week has been a pretty amazing one for me. Not only was I back on the Trollied set yesterday but on Wednesday I was one of 10 very lucky bloggers who won the blogger trip with Mark Warner to Turkey in September. I have never won anything like this and I am SO excited. The measure of my man was put to the test when I emailed him to let him know (he was away working in Northampton) to check with him that it was OK and he came back with this – "Absolutely, go! I will do whatever to accomodate". Thank you SO much Ross.
This week I have about my top 10 tips for holiday budgeting, The Things We Do for Love – a crowd-sourced post from lots of lovely bloggers – and I am running two fab competitions, one to win some Atkins and Potts sauces and the other specifically for bloggers to win a family ticket to this years first ever BlogFest. An amazing opportunity! These tickets are £150 each and I have 3 to give away. I am absolutely gutted that I can't make it and will be very envious of anyone else going – especially the 3 lucky winners.
This week #SoFoLo is back to Google +. Either link about your profile or page or even the URL of a post you would like +1'ed or shared. Pop over and share here. If you find yourself already following someone, then why not +1 one of their posts and spread the love?Also, don't forget our #SoFoLo communityon Google + and our #PoCoLo Facebook group where you can come and post your PoCoLo post for some more shares as well as any of your social media accounts of yours that need more followers.
The 'About Me' special is still open to join until April 2015 – so if you are new then it is a great place to introduce yourself and it is also a great resource to find out about your fellow bloggers.
Last week I started off commenting on links 21 to 40 and then managed to get around everyone! Again, instead of sharing on Twitter, I shall share the majority on Google + as this is better for everyones stats – it helps if your Google + user name is obvious on your blog as then I can include you in the share.
If you are a regular here then it would be great if you spread the #PoCoLo word. However, if you are new here then welcome! Post Comment Love is all about sharing posts which you have written this week which just haven't got the attention they deserve and, with them all in one place, we can help each other share the comment love. This is one of the easiest links EVER. You don't have a 'special theme' to have to write about, the post can be personal, sponsored, a photo, a review, a competition, your own linky, something you've linked to a linky….WHATEVER you like – it's one you've already written this week! If you want some publicity and attention, then you are in the right place!
Please make sure you go across and comment on at least two other linkers posts. Linkys work if everyone supports each other 🙂 then spread the #PoCoLo about this link up on Twitter. The post you link up has to have been written in the last week. The link will go up every Friday at 6.30am and close on Sunday evening at 8pm.
I have a list for the Newbie Showcase running into June 2015. If you would like to be featured then please email me at vickywelton@hotmail.com so I can put you on the rota. Remember, your blog needs to be under a year old to feature from the time of sending your email to me.
This week's newbie showcase is Vai Chin from Rambling Through Parenthood. Not only does she join up with PoCoLo, she is a regular on Prose for Thought and writes some fantastic poetry.
Hi, I am Vai Chin from Rambling Through Parenthood. I have always wanted to write for as far back as I can remember. Fate took me along a different path and I ended up qualifying as a physiologist and working in medicines information instead. So I was writing, just not what I wanted to.
Life took a highly unexpected yet utterly endearing turn when I fell pregnant. And then turned on its head when my little son came along. When the time came to go back to work, I was just not ready. I was plagued by separation anxiety. My heartstrings were being tugged, and the pain was excruciating. To end the agony and return to a reasonably peaceful existence, I decided to become a stay-at-home mother to my little boy.
And then it happened. After long years of dormancy, my creative spark was reignited. There were times when I thought my head would explode with all these thoughts swirling about in there. They needed an outlet. So I started to blog. I wrote about being a first-time mother. I wrote about raising a bilingual child. I wrote about everything we got up to as a family. And I wrote poetry for the first time in over fifteen years.
And here I am, rambling through parenthood. I intend to carry on sharing my thoughts, ideas and simple experiments in the hope that it will amuse, if not inspire you along similar ramblings of your own.
I would love to hear from you. Tweet me at @vaichin. Or find me on Facebook, Google+, Pinterest, Instagram and StumbleUpon
So, whether you want to #PoCoLo, #SoFoLo or both, please pay Vai, and all the lovely linkers below, a visit. Have a great weekend xx
Go Over and Link Your #SoFoLo Google+ HERE.
Link Your PoCoLo Posts here: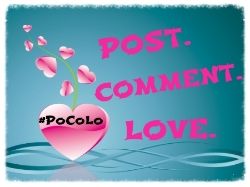 <div align="center"><a href="https://www.vevivos.com/post-comment-love" title="Post Comment Love"><img src=" http://i1322.photobucket.com/albums/u568/ToriWel/4e4a1bf6-07cb-494b-b06e-f959b1fe1311_zps654d027a.jpg" alt="Post Comment Love" style="border:none;" /></a></div>
Copyright protected by Digiprove © 2014 Victoria Welton