Welcome to this week's Prose for Thought. I have an apology to make. Earlier in the week I was going through finding poetry for the BritMums Poetry and Prose Round-up when I realised that I had hardly commented on anyone's beautiful writing over the month of June.
Today I intend to make amends to that. I will be sitting on a film set once again where sometimes there is rather a lot of waiting around to do so I will be making use of the rather sporadic wifi and catching up on some reading and commenting and I shall continue over the next few weeks until I have caught up.
Inspiration hasn't really struck me this week on the poetry writing front so I though I would share a poem I wrote in April last year for NaPoWriMo.
Photographs are what provide us with so many memories and we are lucky these days that social media means that we can connect with who belongs to which photo. My Mum has a collection of old photographs belonging to my Grandad and my worry is that, as time passes, people in these photos will become just faces and not people. My poem reflects this.
What's Behind The Photograph?
What's behind the photograph?
The one I'm holding here
In days that have already gone
The dreams of yesteryear
What's behind the photograph?
This one that I find
These people all had lives
Another place, another time
What's behind the photograph?
The people I've not seen
Did they have a happy life?
Be all they could have been
What's behind the photograph?
Will there come a day
In the future when I'm gone
Is that what they will say?
Victoria Welton 21st April 2014
If you have your own poem or piece of prose to share then grab my badge code and click the link below to enter your post. If you share a link back to my page in your post then you will be guaranteed some free publicity from me on either Twitter or Google +. Don't forget to use #Prose4T when tweeting your post. Check out the Prose for Thought page for full details.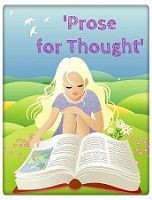 <div align="center"><a href="https://www.vevivos.com/prose-for-thought" title="Prose for Thought"><img src=" http://i1322.photobucket.com/albums/u568/ToriWel/Proseimagesmall_zps637beb08.jpg " alt="Prose for Thought" style="border:none;" /></a></div>